Authors
Auður Ava Ólafsdóttir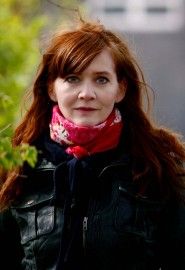 About the author
Auður Ava Ólafsdóttir (b. 1958) is a lecturer of art history and art theory at the University of Iceland. She has also been a curator and has written about art and art theory in newspapers and magazines.
Her first published work of fiction was the novel Raised Earth (Upphækkuð jörð) in 1998. Since then, a number of novels have followed in its wake, as well as the poetry book The Psalm of Glimmer (Sálmurinn um glimmer), published in early 2010.
Her first play, Adam's Children (Svartur hundur prestsins), was put on stage by The National Theater of Iceland in 2011.
Her fourth novel, The Exception – de arte poetica (Undantekningin – de arte poetica), was published by Bjartur Publishing winter 2012.

Auður Ava's work has attracted praise for its fresh perspective on everyday life, both at home and abroad.
Publisher: Bjartur

---
Fiction
Novels:
Undantekningin – de arte poetica, 2012: Bjartur
France, 2013: Zulma

Afleggjarinn, 2007: Salka
Denmark, Stiklingen, 2009: Athene
France, Rosa candida, 2010: Zulma

Germany, Weiß ich, wann es Liebe ist, 2011: Suhrkamp
Netherlands, Rosa candida, 2011: Muntinga Maarten
Spain, Rosa candida, 2011: Alfaguara

World English, The Greenhouse, 2011: AmazonCrossing

Rigning í nóvember, 2004 Salka
France, 2012: Zulma

Upphækkuð jörð, 1998: Mál og menning
Poetry:
Sálmurinn um glimmer, 2010: Salka