Authors
Hallberg Hallmundsson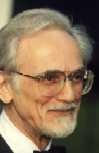 About the author
Hallberg Hallmundsson, (1930-2011), was a poet and translator. He translated many of his poems into English, and published them in American periodicals and anthologies.
Hallberg grew up in Reykjavík and attended Austurbær School and later the Reykjavík Junior College. He studied history and geography at the University of Iceland, and Spanish at the University of Barcelona. He was a journalist at Frjáls þjóð (Free Nation) between 1954 and 1960, primarily as a theater critic and commentator on cultural affairs. He went on to work for the publishing house Iðunn, where he proofread, translated children's books and designed book covers.
For over two decades, Hallberg worked as an encyclopedia editor in New York, and additionally wrote and edited hundreds of articles, credited and uncredited, for other encyclopedic works. In 1984 he became an editor at Business Week. He was also a manuscript editor for the monthly magazine Global Finance. Hallberg was a consultant on Icelandic literature for World Literature Today, where he also published reviews.
Publisher: Brú
---
Fiction
Poetry:
Á barmi næturinnar: ljóðaúrval, 2010: JPV
Vofur hversdagsins, 2007: Brú
Þá og þegar, 2006: Brú
Baggar skoplitlir, 2005: Brú
Fjaðrafok, 2003: Brú
Óræða, 2002: Brú
Hringferli, 1999: Brú
Umhendur,1997: Brú
Vandræður, 1995:  Brú
Skyggnur, 1993: Brú
Þrætubók, 1990: Brú
Spjaldvísur II, 1985: Fjölvi
Spjaldvísur, 1985: Fjölvi
Neikvæða, 1977: Almenna bókafélagið
Haustmál, 1968: Almenna bókafélagið
Short stories:
Nokkurs konar sögur, 2005: Brú
Ég kalla mig Ófeig, 1970: Heimskringla
---
---
---
---