Authors
Sjón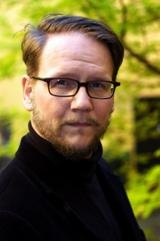 About the author
Sjón (Sigurjón B. Sigurðsson) was born in Reykjavik on the 27th of August, 1962. He started his writing career early, publishing his first book of poetry, Sýnir (Visions), in 1978. Sjón was a founding member of the surrealist group, Medúsa, and soon became significant in Reykjavik´s cultural landscape.
He has published many poetry collections, a number of novels, plays for theatre and material for children. In addition to his writing career, Sjón has participated in art exhibitions and musical events of all kinds. He has collaborated with many other artists as well, most notably Björk, with whom he has composed music, conceived music videos, and written texts for songs, including those for the movie Dancer In The Dark, 2000, directed by Lars Von Trier. Sjón was an original founder of the Children´s Art Workshop at the Gerðuberg Cultural Centre and has worked extensively with children in creative writing. He also helped established the publishing house Smekkleysa (Bad Taste).
His poems have been translated into the Scandinavian languages, English and French; and his novel, Augu þín sáu mig (Your Eyes Saw Me) has been published in Swedish, Danish, Norwegian as well as Spanish and Lithuanian. He received the Nordic Councils's Literature Prize for his novel Skugga-Baldur (The Blue Fox) in 2005. The novel has been translated to a number of languages, as well as his novel Argóarflísin (The Whispering Muse) from 2005. Other work has also been translated, both poetry and prose.
Publisher: Bjartur
Further reading:
---
Fiction
Novels:
Argoarflísin (The Whispering Muse), 2005:  Bjartur
Denmark, 2006, Splinten fra Argo: Athene
Finnland, 2008, Argon lastu: Like
Noregur, 2007, Flisen fra Argo: Tiden
Sweden, 2007, Fisk och kultur: Alfabeta
Skugga-Baldur, 2003: Bjartur
England, 2008, The Blue Fox:Telegram Books 
Denmark, 2005, Skygge-Baldur: Athene
Tékkland, 2008, Syn stínu: Argo Publishing House
Færeyjar, 2006, Skugga-Baldur: Forlagid Nylendi
Finnland, 2005, Skugga-Baldur: Like
France, 2007, Le Moindre Des Mondes: Rivage
Galisía: Rinoceronte Editora
Germany, 2007, Schattenfuchs: S. Fischer Verlag
Holland, 2006, Blauwvos: De Geus
Italy, 2006, La volpe azzurra. Una leggenda islandese: Mondadori
Noregur, 2005, Skugga-Baldur: Tiden
Portugal, 2009: Cavalo de Ferro

Serbía og Montenegro, 2005, Pticje mleko: Geopeotika
Spain, 2008, El zorro ártico: Nórdica Libros
Sweden, 2005, Skugga-Baldur: AlfabBeta
Með titrandi tár (with a quivering tear), 2001: Mál og menning
France, 2008, Sur la paupière de mon père: Rivages
Sweden, 2004, Med skälvande tårar: Alfabeta
Augu þín sáu mig (Made in secret), 1994: Mál og menning
Romania, 2008, Ochii tăi m-au văzut: Niculescu
Litáen, 2005, Tavo akys matė mane: Apostrofa
Spain, 2005, Tus ojos me vieron: Ediciones Siruela
Finnland, 2004, Sinun silmäsi näkivät minut (rakkaustarina): Like
Norway, 2001, Dine øyne så meg: en kjærlighetshistorie: Tiden
Denmark, 2002, Dine øjne så mig: Vindrose
Sweden, 1997,  Dina ögon såg mig: Anamma
Stálnótt, 1987:  Mál og menning
Sweden,
Stålnatt,
2009: 
Rökkurbýsnir, 2008: Bjartur
Engill, pípuhattur og jarðarber, 1989/1994: Mál og menning
Poetry:
Myrkar fígúrur, 1998: Mál og menning
France, 2000, Figures obscures: Cahiers de Nuit
Ljóðasafn 1978-2008, 2008: Bjartur
Söngur steinasafnarans, 2007: Bjartur
Ég man ekki eitthvað um skýin, 1991: Mál og menning
Drengurinn með röntgenaugun, 1986: Mál og menning
Leikfangakastalar sagði hún það er ekkert til sem heitir leikfangakastalar, 1986: Medúsa
Oh!: (isn't it wild), 1985: Medúsa
Sjónhverfingabókin, 1983: Medúsa
Reiðhjól blinda mannsins, 1982: Medúsa
Hvernig elskar maður hendur, 1981: Medúsa
Birgitta (hleruð samtöl), 1979: Medúsa
Madonna, 1979: Author
Sýnir: yrkingar, 1978: Author
Poetry with music:
Kanildúfur,
1998: Smekkleysa
Lyrics:
Bergmál, 2005: Music by Ragnhildi Gísladóttur. Premiered at Skálholt in May 2005
Dancer in the Dark, 2000: Gyldendal
Libretto:
Skuggaleikur, 2006: Opera by Karólínu Eiríksdóttur. Premiered at the Icelandic Opera in Reykjavik in November 2006
---
Non-fiction
Ævintýri Tinnu og Hreins Borgfjörð 1937, 1989: Mál og menning
---
---
Children's books
Númi og höfuðin sjö, 2000: Slysavarnafélagið Landsbjörg
Sagan af furðufugli, 2002: Mál og menning
Sagan af húfunni fínu, 1995: Mál og menning
---