News
"Crepusculum" opens at the Schirn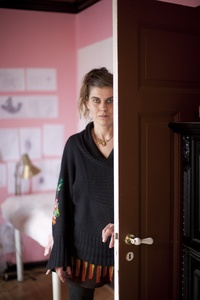 On
September 28, the exhibition "Crepusculum", in which the artist Gabríela Friðriksdóttir creates a unique context for eight medieval manuscripts from Iceland, opened in Schirn Kunsthalle Frankfurt.


It is extremely rare for theancient Icelandic manuscripts to be moved abroad, and never before in Germany have so many of them been displayed simultaneously. In consequence, the German media has shown great interest in the event. When two staff members of the Árni Magnússon Institute, carrying the manuscripts in fireproof safety cases, landed at Frankfurt Airport, they were met on the runway by a German television crew. The crew tracked the manuscripts' progress through Frankfurt, to the Schirn and up until the moment they were safely ensconced in reinforced display cabinets at the exhibition hall.
Gabríela Friðriksdóttir is among Iceland's best-known artists. "Crepusculum", which draws its name from the Latin term for twilight, calls upon a wide variety of disciplines and media – sculpture, audio, video, and of course the manuscripts themselves – to set the scene for a unique encounter between ancient and contemporary art taking place in Gabríela's fantastical world of symbols and signs.
The exhibition is one of many taking place on the occasion of Iceland's appearance as Guest of Honour at the Frankfurt Book Fair. "Crepusculum" is organized by Sagenhaftes Island and supported by Actavis and Landsbanki.