News
The Frankfurt Book Fair 2011 opens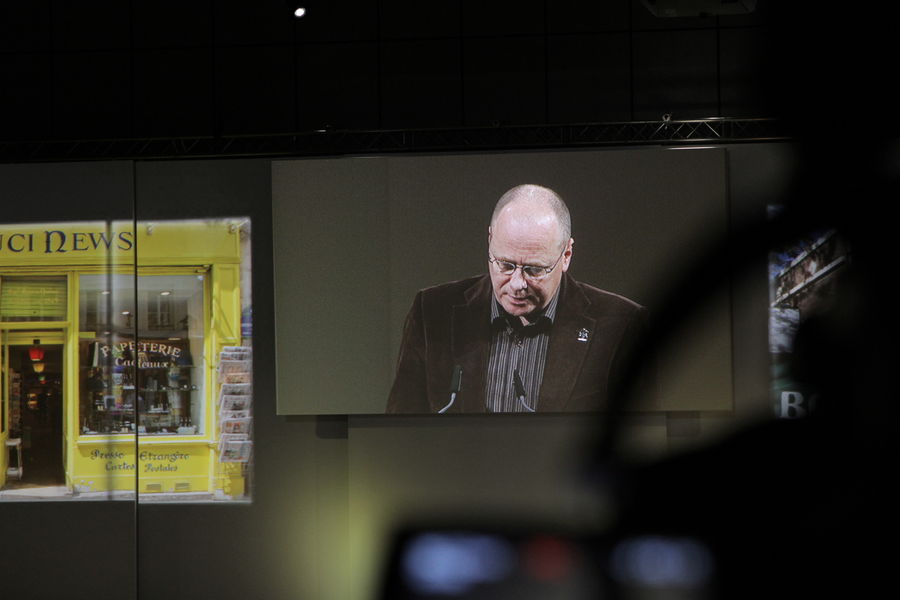 "Iceland's position as Guest of Honour is a tribute that we appreciate deeply," said President Ólafur Ragnar Grímsson in his address at the opening of the Frankfurt Book Fair 2011 on October 11. "It is a statement of friendship that we will long remember, a monument to those who, centuries ago, wrote the sagas on parchment and a recognition of the efforts and achievements of the writers who have moulded the times in which we live."
Other Icelanders speaking at the event were the authors Arnaldur Indriðason and Guðrún Eva Mínervudóttir, both of whom appeared on behalf of Icelandic writers. Speakers on the German side were Gottfried Honnefelder, president of the Association of German Book Traders; Jürgen Boos, director of the Frankfurt Book Fair; Petra Roth, mayor of the City of Frankfurt; Jörg-Uwe Hahn, stand-in for president of the State of Hessen; and Guido Westerwelle, foreign minister of Germany.
 "Our friends in Germany have played a large part in the international success of Icelandic literature over the years," Arnaldur said during his speech. "They have shown interest in it, published it, read it.  And now our good friends have invited us to appear as guest of honour at the world's largest celebration of books, so that we may show that our literature testifies to the significance of the small."
Guðrún Eva reminded the gathering that literature was not always easy on us. "It must maintain a healthy relationship with uncomfortable truths of all kinds. Literature's most important role is to move and frighten us, shake off lethargy, carry our thoughts into a higher plane, vitalize our aesthetic sense. It should fill us with righteous anger, a commitment to justice and a love of life.  The world of literature is boundless, and our role is to keep on exploring and enlarging it. And this is precisely why we are gathered here."
After the speeches, the crowd filed into the Icelandic Pavilion, where they were greeted by the sight of outsized video portraits of Icelanders reading from their favourite books in their homes. Also in the pavilion is a 360° cinematic installation offering an immersive experience of Icelandic landscapes, and a corner with a relaxed "living room" atmosphere, where visitors can take a moment away from the book fair's hustle and bustle to kick back with a book and a drink.