News
The Icelandic Literature Center presents its Grassroot Grants for the tenth time
The 2017 Grassroot Grants go to Fríða Ísberg for her poetry collection Slitförin (The Stretch Marks) and Pedro Gunnlaugur Garcia for his novel Ráðstefna talandi dýra (A Conference of Talking Animals)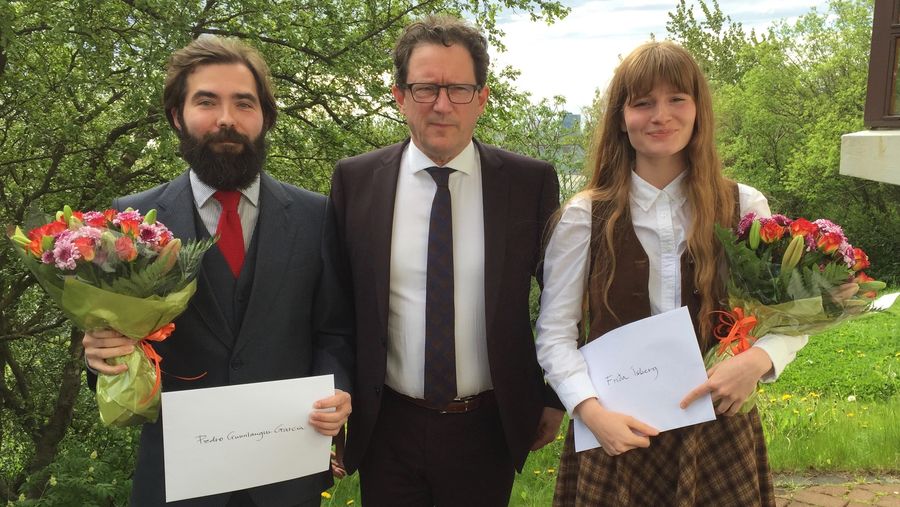 Thursday the 1st of June, the Icelandic Literature Center awarded its Grassroots Grants for publishing works to a couple of writers, both newcomers on the literature scene. The amount of each grant is 400.000 ISK. Kristján Þór Júlíusson, Minister of Education and Culture, presented the grants at a ceremony in Gunnarshús (Gunnar´s House), the headquarters of the Icelandic Writers´ Association, and took the opportunity to convey his best wishes for a fruitful writing career to the newly published authors.
This is the tenth presentation of the Grassroot Grants, which have been awarded to nearly fifty writers. Grassroot Grants are special grants that support a budding author in publishing his or her first works and aim to encourage newcomers to keep on their chosen path. The term "work" is used in a broad sense, meaning poetry, fiction, plays or any form of writing.
This year, we received 57 applications for a Grassroot Grant, a record number of applications for the ten year period in which these grants have been offered. The works that the applications were based on are very diverse, i.e. novels, plays, poetry, books for children and young adults, short stories and crime novels, and the age span of the authors was very broad. This year, the grants were awarded to a novel and a poetry collection. The selection is done by the literary advisors of the Icelandic Literature Center and this year, Helga Ferdinandsdóttir og Magnús Guðmundsson hold that title.
The following works and authors are awarded the Grassroot Grants of the Icelandic Literature Center for 2017:
Slitförin (The Stretch Marks)
A poetry collection
Fríða Ísberg (b. 1992) is currently working on her master´s degree in Creative Writing, Practical Editorship and Theory of Publication at the University of Iceland and performs regularly at readings and poetry evenings. Slitförin is a work of fiction in sixty poems, created as a 30 credit-master´s thesis in creative writing, under the guidance of acclaimed poet Sigurður Pálsson.
From the literary advisors´ opinion on the work:
"Slitförin is a collection of poems that deal very intimately with the conflict of breaking with the ruling elements of childhood and finding a path to an independent inner self. The main motive is the pain that is caused by the bitter strife and consequent anguish that arises between a parent and a child. The poems demand their own space, take a firm stand and refuse to let go of the reader."
Ráðstefna talandi dýra (A Conference of Talking Animals)
A novel
Pedro Gunnlaugur Garcia (b. 1983) is Portuguese-Icelandic. He holds a B.A. in Social Studies and an M.A. in Applied Cultural Mediation. Pedro Gunnlaugur has worked on the novel Ráðstefna talandi dýra for a year and a half, alongside his day job as a counsellor at Háaleitisskóli primary school.
From the literary advisors´ opinion on the work:
"The novel Ráðstefna talandi dýra is not your usual "first novel", but rather a broad and mature novel that is an intricate web of strands from different cultural worlds, from different periods of time, painting a vivid picture of the life, dreams and destiny of its characters. A rich imagination, a very strong narrative structure and a dynamic and entertaining style and language, are the major elements of this riveting novel."
Pedro Gunnlaugur Garcia and Fríða Ísberg

 

Pedro Gunnlaugur Garcia, Kristján Þór Júlíusson, Minister of Culture and Education, Fríða Ísberg and Hrefna Haraldsdóttir, Managing Director of ILC. 

Fríða Ísberg reading from her collection of poems

Pedro Gunnlaugur Garcia reading from his novel

 
 
 
 

 Guests in Gunnarshús

 Guests in Gunnarshús

 Guests in Gunnarshús

Helga Ferdinandsdóttir, Literary Adviser,  and Bryndís Loftsdóttir, Vice Director of  the Icelandic Publishers Association