News
Kristín Ómarsdóttir receives The May Star poetry prize for her book of poems, Kóngulær í sýningargluggum
The May Star awarded for the second time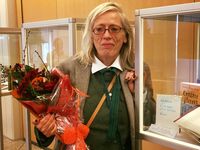 The May Star for 2017, a prize awarded for poetry, was presented for the second time at a ceremony held at the National and University Library on May 29th. The prize was awarded for Ómarsdóttir´s book of poems, Spiders in Display Windows (Kóngulær í sýningargluggum).
The prize is presented by The Icelandic Writers´ Union and the National and University Library of Iceland.
The jury´s verdict on this year´s winner:
"Danse macabre is a medieval metaphor for the "dance of death" that we all have in common, noble as well as common of birth, regardless of gender or status, a dance we humans must dance throughout our lives. In this dynamic book of poetry we are invited to a similar dance; life and death are intertwined in a complex spider´s web and just like life gives us not time to pause and reflect, neither does this book. The world is full of wonders and horrors, beauty and ugliness, power and powerlessness, and a myriad of other things. The imagery is powerful and at times overwhelming and soon, the reader is caught in Ómarsdóttir´s poetry web, because it is an embodiment of our own lives and times. Spiders in Display Windows is a uniquely orginal, very powerful and demanding work of poetry, full of similes and situations that open new dimensions and give us a new view of our world."
About the author
Kristín Ómarsdóttir was born on September 24th 1962 in Reykjavik. She graduated from Flensborg Upper Secondary School in Hafnarfjörður in 1981 and then studied Icelandic, Literary Theory and Spanish at the University of Iceland. Ómarsdóttir has lived in both Copenhagen and Barcelona but currently lives and works in Reykjavík. Her body of work includes poetry and novels, short stories and plays and she has received numerous awards for her writing. Her novel My Love I Die (Elskan mín ég dey) was nominated for the Nordic Council Literature Prize in 1999 and received The DV Culture Prize in that year. Her play Love Story 3 (Ástarsaga 3) was nominated for the Nordic Dramatists´ Prize. In 2005, she received Gríman ("The Mask"), the Icelandic Performing Arts Award, as playwright of the year for her play Tell Me Everything (Segðu mér allt). Her book of poetry See Your Beauty  (Sjáðu fegurð þína) earned her The Women´s Literature Prize (Fjöruverðlaunin) as literary work of the year in 2008. The novel The Vagrant (Flækingurinn) was nominated for the DV Culture Prize in 2015. Spiders in Display Windows was nominated for the Icelandic Literature Prize in 2016, but Ómarsdóttir´s previous nominations for that prize are for Milla (Milla) in 2012, My Love I Die (Elskan mín ég dey) in 1997 and The Narrow Doors (Dyrnar þröngu) in 1995. Ómarsdóttir is also a visual artist and has held exhibitions of her drawings and worked in various media, such as video art and sculpture. Ómarsdóttir´s work has been translated into Swedish, French and Finnish and her poems have been published in anthologies abroad.
All Icelandic poetry books published in 2017 and registered at the National and University Library of Iceland were eligible for the prize. Jurors were Magnea J. Matthíasdóttir, on behalf of the Writers´ Union, and Rannver H. Hannesson, on behalf of the National and University Library of Iceland.
The nominated works
Untitled (Án titils) by Eydís Blöndal, published by author
Death in the Fishing Gear Shed (Dauðinn í veiðarfæraskúrnum) by Elísabet Kristín Jökulsdóttir, published by Viti menn
Florida (Flórída) by Bergþóra Snæbjörnsdóttir, published by Benedikt Publishing
Spiders in Display Windows (Kóngulær í sýningargluggum) by Kristín Ómarsdóttir, published by JPV
Big Oil Tankers (Stór olíuskip) by Jónas Reynir Gunnarsson, published by Partus