---
The Survivors' Saga travels far
Two years have passed since Emil H. Petersen treated us to the first Icelandic urban fantasy. Now, with next book just around the corner, the young author takes to the road.
Two years ago, Emil H. Petersen made a decisive entrance as a novelist with the urban fantasy Höður and Baldur, the first installment of the trilogy The Survivors' Saga (orig. Icelandic Saga eftirlifenda). The book, which received strong reviews, drew in a highly original manner on Nordic mythology, with occasional references to Celtic, Oriental and Greek myths as well. It was incorporated into the Norse mythology curriculum of one Icelandic junior college, and is included as supplementary reading in a number of others.
In October the young author took part in a Swedish convention on science fiction and fantasy, named simply Swecon.
"It's kind of a grand annual gathering for the Swedish fantasy scene," he explains, "and I was invited to appear as a guest author. "It took place in Uppsala, and from there I went  directly to the Gothenburg Book Fair where I appeared at a poetry reading. At Swecon, I began by taking part in very entertaining and fruitful panel discussion, where I and three other authors talked about the writing process. By happy circumstance it took place just before the opening ceremony of the convention, so there was a large audience. The following day I gave a talk on Norse mythology in fantasy fiction, discussed The Survivors' Saga and read from an English sample translation of it."
What kind of reaction did you get?
"The venue was packed and the reaction very positive. After the reading people lined up to talk in greater detail about the story and it premise. They liked the idea of writing about the survivors of  Ragnarök, and were enthusiastic about reading the trilogy in translation. All in all, it was a great convention, and I left Uppsala convinced I could share The Survivors' Saga with foreign readers in the near future."
Next March, Emil will head to Florida for The International Conference on the Fantastic in the Arts, where he will be a guest author. Many of the genre's most famous author's have previously attended the event, such as Neil Gaiman and China Miéville.
On the verge of Verge of Ruins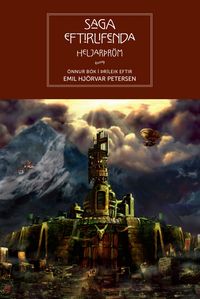 At the time of this posting, the trilogy's second installment, titled Verge of Ruins (orig. Heljarþröm) is just being printed. Emil says he has been steadily at work on it since the first book was published.
What can readers expect from Verge of Ruins?
"The book is pretty wide in scope, so there's a lot to pick from. I place great emphasis on telling a good story, a well-made, convincing fantasy in Icelandic for adult readers. Verge of Ruins is written to have entertainment value, but it also contains thoughts on multiculturalism, religion, destiny, cause and effect, the power of myth and lots more. Readers can expect a plot drawing on urban fantasy, post-apocalyptic fiction, even steampunk."
Emil says the story had just been warming up in the first book. "Now it takes place on two time planes, and is mostly told from three perspectives, those of Baldur, Höður and Skaði, but we also get to know other survivors of the Ragnarök as well. A number of new and interesting characters are introduced, such as the old mentor Li Bai; Múrak, the last druid; the town familiar Bokki, the Valkyrie Sigurdrífa, and one of the characters is a reincarnation of Boudica. Verge of Ruins will feature the awakening of the terra cotta army in China, an Icelandic troll tribe, zeppelin travel and lots more. A new, important survivor is introduced: the son of Höður and Líf..." here he pauses. "That's all I'm going to say. No spoilers, right?"
---