News
The book flood before Christmas / "Jólabókaflóðið"
The Icelandic tradition of buying books for Christmas gifts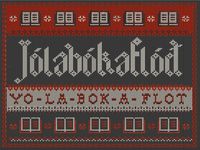 The majority of Icelandic book titles are published in October and November. The result is that between then and Christmas, the media is inundated with coverage and advertisements on books, and a flurry of readings takes place in bookstores, cafés, bars, libraries, schools and local businesses all around the country. (For example, it is popular to book an author reading for the Christmas celebrations of Icelandic work places.)
The deluge of Christmas books comes to a head in the final weeks before Christmas, when all books are in place in the stores, and the publishers and authors wait in nail-biting apprehension to see how their works will fair in the great affair. This great boost in sales and publications around Christmas, fueled by the Icelandic tradition of buying books for Christmas gifts, is what sustains Iceland's vibrant publishing scene. Most Icelanders receive a book for Christmas, settling into bed at the end of Christmas Eve (which, rather than Christmas Day, is when Icelanders open their presents) with a brand-new book.