Contact
Contact


Icelandic Literature Center

Austurstræti 18, 4th floor
101 Reykjavík
Iceland

                
Phone: +354 552 8500, Fax: +354 561-5765                                    
www.islit.is

islit@islit.is
Staff:
Rakel Björnsdóttir, Managing Director (rakel@islit.is)    

Thorgerdur Agla Magnusdottir, Head of Literature Projects and Promotion (agla@islit.is) 

The board.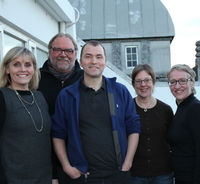 Hrefna Haraldsdóttir, chairman, Jón Karl Helgason, vice chairman,
Hlín Agnarsdóttir, Þórunn Sigurðardóttir and Sigurður Svavarsson.
Deputy members of the board:
Sigtryggur Magnason, vice chairman, Haukur Ingvarsson,
Magnea J. Matthíasdóttir, Sigþrúður Gunnarsdóttir and Kristján Jóhann Jónsson.