Icelandic Served as an International Language at a Successful Translators' Seminar in Veröld – Vigdis' House
The Icelandic Literature Center hosted an international two-day translators' seminar on the 29th and the 30th of April 2019.
Eighteen translators, veterans and newcomers in the field, from 10 linguistic areas gathered at the seminar. The languages that they translate into are Polish, Czech, Norwegian, Swedish, Danish, English, Russian, Latvian, German, and Italian.
Translators from different corners of the world met with colleagues in Reykjavik
A two-day international translation seminar hosted by the Icelandic Literature Center took place in Veröld – Vigdis' House on the 29th and 30th of 2019. Participants and organisers were extremely happy with the event. During the seminar the translators had a chance to meet with colleagues from different corners of the world, Icelandic authors, academics, publishers, and various others involved in the Icelandic literature scene, in addition to listening to talks and taking part in discussions on literature and translation. The two days proved both useful and interesting, providing an excellent platform for translators of Icelandic literature to network.
Important Ambassadors of Literature and Culture
Good translators are great ambassadors of Icelandic literature abroad and deserve thanks for their ambitious and selfless work, and the seminar was a gesture of that.
The goal of the translators' seminar is to strengthen bonds between active translators of Icelandic literature working into foreign languages and to show appreciation for their work, because translators are important ambassadors of literature, spreading the word far and wide.
The hosts also wanted to encourage new and up-and-coming translators and enable all participants to connect with the Icelandic literary scene and contemporary culture – in addition to meeting and working with more experienced colleagues.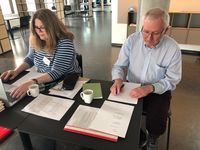 18 Translators from 10 Linguistic Areas
Eighteen translators from ten different linguistic areas attended the seminar, both veterans and newcomers to the field. The languages that these translators work into are Polish, Czech, Norwegian, Swedish, Danish, English, Russian, Latvian, German, and Italian. Around half of the participants reside in Iceland, the other half lives abroad. The seminar was conducted in Icelandic.
Diverse Programme
The programme was diverse and included talks, workshops, and field excursions. In a workshop led by Aðalsteinn Ásberg, author and translator, translators tried their hand at translating short texts and dynamic discussions arose around debatable and problematic points. Steinunn Sigurðardóttir, who works closely with translators of her own work, held a talk called Should a Translation be Understandable? Rúnar Helgi Vignisson, writer and translator, talked about the importance of translating directly from the original language, and Jón Yngvi Jóhannsson, literary scholar, held an informative talk about Icelandic, contemporary literature. Furthermore, participants attended a reception at The Árni Magnússon Institute for Icelandic Studies in the Sigurður Nordal Office, where Úlfar Bragason welcomed the group, Icelandic publishers met with translators, and people shared a great meal in great company.
The Importance of Good Translators
There is great interest in Icelandic literature and its popularity is growing, as is evident by the steadily increasing number of applications for grants to the Icelandic Literature Center's translation grants programme, and so does the importance of good translators accordingly. It is necessary to meet this demand for Icelandic literature and to promote Icelandic authors and culture on a global scale.
Organisers of the Translation Seminar and Collaborators
The Icelandic Literature Centre organised and hosted the seminar. Sponsors and collaborators were the following: Reykjavik – UNESCO City of Literature, Árni Magnússon Institute for Icelandic Studies, The Icelandic Publishers Association, Reykjavík International Literary Festival, The Writers' Union of Iceland, The Icelandic Association of Translators and Interpreters, and Veröld – Vigdís' House.
Orðstír Honorary Award
The award is a token of appreciation to translators for their good work and it is awarded to individuals who have translated Icelandic works of literature into another language showing exceptional skill and quality, and thus being a credit to Icelandic culture abroad. The President of Iceland presents the award biennially at Bessastaðir in conjunction with the Reykjavík International Literary Festival. This was the third time the award was presented.
The Two Award Winners Have Translated 120 Works in Total
The translators Silvia Cosimini, who translates into Italian, and John Swedenmark, who translates into Swedish, were presented with the Orðstír award this year. Silvia and John are both diligent translators with a passion for Icelandic literature and the Icelandic language. Silivia has translated around 70 works of literature from Icelandic to Italian, and is a master of various literary genres. Among authors that she has translated are Halldór Laxness, Hallgrímur Pétursson, Guðbergur Bergsson, Sjón, Svava Jakobsdóttir, and Arnaldur Indriðason. John has translated just under 50 works from Icelandic to Swedish, for instance by Gerður Kristný, Jón Kalman, Þórarinn Eldjárn, Linda Vilhjálmsdóttir, Steinunn Sigurðardóttir, and Gyrðir Elíasson. Silvia's and John's published translations add up to a total of 120 works of the highest quality. Their versatility and professionalism is unique and their contribution to Icelandic literature is immeasurable.
Further information on Orðstír 2019.