Translators Tina Flecken and Tone Myklebost awarded Orðstír 2021
The honorary award Orðstír was presented at Bessastaðir, the presidential residence, on September 10th.
The award Orðstír, an honorary award for translations of Icelandic literature to a foreign language, is presented biannually, in conjunction with the Reykjavik International Literary Festival. The award is presented for an excellent translation of a work of Icelandic literature into another language, resulting in the increased renown of Icelandic literature abroad.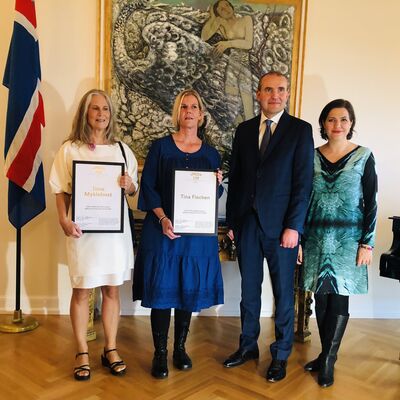 The translators honored this year are Tina Flecken from Germany and Tone Myklebost from Norway but they are both extremely competent translators and their works are vital for Icelandic literature.
The German translator Tina Flecken is a versatile translator who has over the past decades worked towards advancements of Icelandic literature in Germany with her translations. She has translated authors like Andri Snær Magnason, Yrsa Sigurðardóttir, Sigríður Hagalín Björnsdóttir, Guðrún Eva Mínervudóttir and Sjón.
The Norwegian translator Tone Myklebost has translated number of books by various authors for the past three decades and her works are well known in Norway. She was awarded the Norwegian Translation's Awards in 2019 for her complete works. Tone has translated books by Jón Kalman Stefánsson, Einar Már Guðmundsson, Halldór Laxness, Gerður Kristný and Auður Ava Ólafsdóttir.
Orðstír
Orðstír is awarded by the Icelandic Literature Center, The Icelandic Association of Translators and Interpreters, Promote Iceland, the Office of the President of Iceland and the Reykjavik International Literary Festival.