Translators Jacek Godek and Luciano Dutra awarded Orðstír 2023
The award Orðstír, an honorary award for translations of Icelandic literature to a foreign language, is presented biannually and is presented for an excellent translation of a work of Icelandic literature into another language, resulting in the increased renown of Icelandic literature abroad.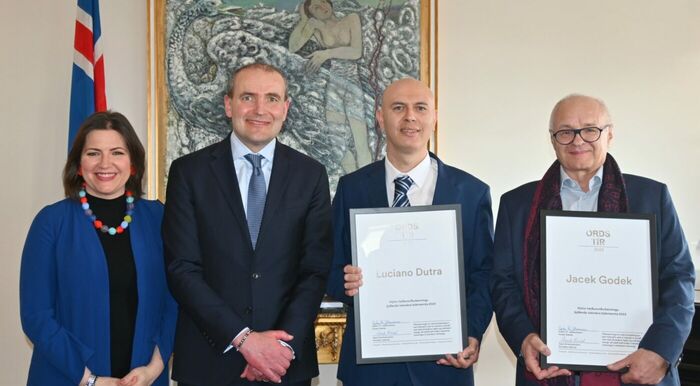 Forsetahjónin Eliza Reid og Guðni Th. Jóhannesson með Orðstírshöfunum Luciano Dutra og Jacek Godek
The translators honored this year are Jacek Godek from Poland and Luciano Dutra from Brasil but they are both extremely competent translators and their works are vital for Icelandic literature.
Orðstír
Orðstír is awarded by the Icelandic Literature Center, The Icelandic Association of Translators and Interpreters, Promote Iceland, the Office of the President of Iceland and the Reykjavik International Literary Festival.