Translators Silvia Cosimini and John Swedenmark Receive the Orðstír Award 2019
Orðstír is the honorary award for translators of Icelandic literature into a foreign language, and was presented for the third time at Bessastaðir, the presidential residence.
The President of Iceland presented the Orðstír honorary award at a ceremony at the presidential residence at Bessastaðir on the 26th of April 2019, marking the third time that the award is presented. Two translators received the award this time; Silvia Cosimini from Italy and John Swedenmark from Sweden.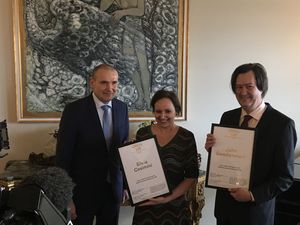 Orðstír is an honorary award presented biennially in conjunction with the Reykjavík International Literary Festival for translation of Icelandic literature into other languages. The award is presented to individuals who have translated Icelandic works into another lingual with exceptional skill and quality, advancing the prestige of Icelandic culture abroad.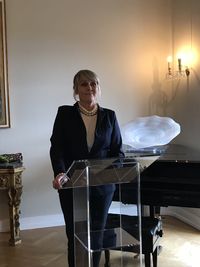 Hrefna Haraldsdóttir, managing director of the Icelandic Literature Centre, held a speech at the ceremony and announced the winners of Orðstír 2019. In her speech she described the aim and purpose of the award and discussed the importance of good translators in promoting Icelandic culture and literature.
A Total of 120 Translations of Icelandic Works
Icelandic literature has been growing in demand on the international scene, and this is reflected in the fact that translations of Icelandic works into other languages has tripled over the past decade. Diligent translators such as John Swedenmark and Silvia Cosimini are invaluable, without them the success of Icelandic literature abroad would not be as great as it is.
Silvia and John are both extremely competent translators with a passion for Icelandic literature and language. Silvia has translated around 70 works from Icelandic to Italian and is a master of various literary genres, having translated works by authors such as Halldór Laxness, Hallgrímur Pétursson, Guðbergur Bergsson, Sjón, Svava Jakobsdóttir, and Arnaldur Indriðason. John has translated just under 50 works from Icelandic into Swedish, ranging from authors such as Gerður Kristný, Jón Kalman, Þórarinn Eldjárn, Linda Vilhjálmsdóttir, Steinunn Sigurðardóttir, and Gyrðir Elíasson. Silvia's and John's published translations add up to a total of 120 works of the highest quality. Their versatility and professionalism is unique and their contribution to Icelandic literature is immeasurable.
Programme at Veröld – Vigdís' House
Silvia and John participated in an event at Veröld – Vigdís' House, with writer Sigurbjörg Þrastardóttir and academic Þorleifur Hauksson on Sunday 28th of April.
About ORÐSTÍR
Orðstír is presented by the Icelandic Literary Centre, The Icelandic Association of Translators and Interpreters, the Office of the President of Iceland, and the Reykjavík International Literary Festival. The selection committee this year was comprised of Kristján Jóhann Jónsson, Magnea J. Matthíasdóttir, Inga Hlín Pálsdóttir, Örnólfur Thorsson, and Stella Soffía Jóhannesdóttir.