Iceland's President awarded the honorary award, Orðstír, to Victoria Ann Cribb and Eric Boury for translations from Icelandic to foreign languages.
The honorary award Orðstír was presented at Bessastaðir, the presidential residence, on September 7th.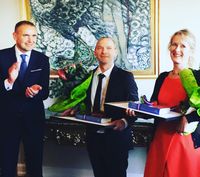 The award Orðstír, an honorary award for translations of Icelandic literature to a foreign language, is presented biannually, in conjunction with the Reykjavik International Literary Festival. The award is presented for an excellent translation of a work of Icelandic literature into another language, resulting in the increased renown of Icelandic literature abroad.
Icelandic literature has truly made its presence known in the foreign market in the last two decades. This is the result of relentless work in various fields and we would be hard pressed to list all those whose efforts in advancing Icelandic literature abroad have yielded invaluable results. All these efforts would, however, come to naught if not for such true friends of Iceland as Eric Boury from France and Victoria Ann Cribb from England.
Translators of books by Sjón, Arn­aldur and Andri Snær
Both Victoria and Eric are active translators, blessed with a great interest for Icelandic literature and language. Victoria is currently finishing her doctoral thesis in Old Norse at Cambridge University, while Eric is a lecturer in Icelandic at the Icelandic department at the University of Caen. Both have translated works by Sjón, Arnaldur Indriðason and Andri Snær Magnason.
Victoria has also translated works by Yrsa Sigurðardóttir, Steinunn Sigurðardóttir, Gyrðir Elíasson and Torfi Tulinius. Among Eric´s translations are the works of Jón Kalm­an Stefánsson, Ein­ar Már Guðmunds­son, Guðmundur Andri Thors­son and Krist­ín Ómars­dótt­ir, to name but a few. Eric and Victoria have, when all is told, published or will publish some 75 excellent translations. Their work is of the utmost professional excellence and their work for the advancement of Icelandic literature is invaluable.
Performance at Veröld
The two translators participated in a panel event, alongside Icelandic authors and other translators, at a panel event in Veröld, the Vigdís Finnbogadóttir Institute of Foreign Languages, at the opening of an international translators´ conference on September 11th. Both addressed the panel and discoursed on their work as translators and the ever-increasing interest for Icelandic literature and Icelandic authors in their respective native countries. 
The Organizers of Orðstír
Orðstír is awarded by the Icelandic Literature Center, The Icelandic Association of Translators and Interpreters, Promote Iceland, the Office of the President of Iceland and the Reykjavik International Literary Festival.