Ragna Sigurðardóttir
Prose constantly wormed its way into her visual art, until she channeled it into full-blown novels. Ragna Sigurðardóttir, with her unique visual style and willingness to experiment, has struck a new note in Icelandic literature.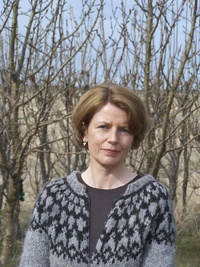 Ever since it was published in the early 90's, Borg / City, Ragna Sigurðardóttir's debut novel, has been hailed by critics as a major literary event. The work attracted considerable attention from the onset and was nominated for The Icelandic Literary Prize in 1993. This experimental novel, which blurs the boundaries between book and city, also focused the spotlight on a young writer who would, in the coming years, establish herself as one of Iceland's leading authors.
Sigurðardóttir (b. 1962) studied visual art at the Icelandic School of Arts and Craft (1985-1989), and then obtained an advanced degree from The Jan Eyck Academy in Maastricht (1989-1991). Since 2002, she has been an art critic for daily newspaper Morgunblaðið as well as a freelance art writer for magazines, museums and exhibition spaces. Before she turned to writing, Sigurðardóttir incorporated text into her visual art in a variety of ways. In a recent interview, she describes how prose constantly wormed its way into her art – in the end becoming such a problem that she decided to concentrate fully on writing. Sigurðardóttir's artistic background is reflected in her unique visual style, as well as a developed sense of form and willingness to experiment.
"City is every city"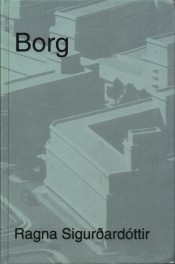 Sigurðardóttir's aforementioned City is, in many ways, a unique work on the Icelandic literary scene. The story revolves around three young characters: Úlla, a pure-bred, born and raised city slicker, a natural micro-organism in the city's metabolism; Logi, advertising designer, a hyperreality poet of the consumer culture; and Vaka, translator and student of linguistics, a recent immigrant to the city who lacks the urban affinity of seasoned city dwellers Úlla and Logi. Together, these lost young adults form a love triangle in a media-permeated age.
The time of the story is unclear, and the setting – the city itself – is similarly undefinable: clearly Icelandic, it is simultaneously a composite of countless Western cities with their triumphal arches, slums and pollution. This city, at once familiar and alien, is the foundation which runs through the novel, and may in fact be regarded as the work's fourth protagonist. City is a fantasy in the sense that its narrative merges reality and imagination. The Icelandic metropolis – which is, as yet, nonexistent – springs into life in the work's pages, and readers weave through its prose in the same way they would navigate the urban maze of an actual city.
Subverting the present
Sigurðardóttir's second novel, Skot / Stricken (1997) innovatively turns the played-out crime genre inside out. The story sees Margrét, a young Icelandic woman working in Rotterdam, fall in love with an exotic stranger. Their budding relationship ends abruptly, however, when the man is shot and killed out in the open street shortly after their first romantic encounter. The dramatic affair leaves Margrét's life in turmoil – she is left on her own, with a pregnancy to deal with and an entire reality to reconceive. Determined, she sets out to unearth her enigmatic lover's past and solve the murder mystery.
Sigurðardóttir makes use of Icelandic folklore in the story: Margrét is assisted by a familiar of sorts, a mongrel mixture of raven and owl, the inclusion of which contrasts the mythological realm with the rationalism of modern existence.
The supernatural also plays part in her third work, Strengir / Strings (2000), a fragmented love story of modern Iceland. The novel relates how the young protagonist, María Myrká, falls in love with the theology student Bogi. At the outset, the two turtledoves have a rosy view of their mutual future, but a period of sexual experimentation causes so much friction in their relationship that they eventually part ways. A decade later, their ways cross again, and although María has become a single mother and Bogi a married father off three, they again become entangled. As María represents a third generation of single mothers, the story deals with, among other things, women's status and freedom in modern society. The realism of the love story is offset by the presence of a mysterious being, an elemental spirit of sorts who has accompanied María's family through the centuries, and who delivers poetic asides throughout the book. Just as in Stricken, this narrative technique, akin to magic realism, adds a whole new dimension to the work's descriptions of the present.
A counterfeit landscape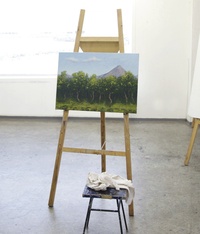 In late 2009, Sigurðardóttir published Hið fullkomna landslag / The Perfect Landscape, her fourth novel. An Icelandic art historian, Hanna, returns home from Amsterdam to manage an experimental section of a museum in Reykjavík. The economic bubble has yet to burst, and rich businessmen are eager to stroke their egos by donating expensive artworks to local art museums, although they seem to  have limited interest in or knowledge of art and culture. Hanna's museum has recently received such a donation – a landscape from the early 20th century, painted by a known Icelandic artist. However, the painting's authenticity is called into doubt, sending Hanna, in collaboration with a colleague, headlong into a tricky investigation of the painting's origins. Her task, however, is undermined at every turn by a widespread unwillingness to upset the prevailing, cozy relationship between big money and high culture by revealing an embarrassing forgery.
The work draws on Sigurðardóttir's knowledge of the Icelandic art world. The setting is used to illuminate the complacency which prevailed during the Icelandic "upswing", and to demonstrate the inevitable changes which occur in a national identity when its cultural heritage is devalued.
There is a consistent undercurrent in Sigurðardóttir's work of questioning new perceptions of common human concerns: nature, culture, femininity and the role of women – but each work provides an entirely fresh and innovative take on this material. Her latest novel served to secure her place among the country's major contemporary writers. As literary critic Fríða Björk Árnadóttir has put it, the work succeeds in "uncovering the illusions which ran rampant until the very last. The Perfect Landscape proves that Ragna Sigurðardóttir is one of the best writers of her generation."