Sigurgeir Sigurjónsson
Sigurgeir Sigurjónsson has long been renowned for his landscape photography. At the moment, he has two works underway: a book on the eruption in Eyjafjallajökull, due in late June, and a book of aerial photographs of Iceland, which will be called Earthward.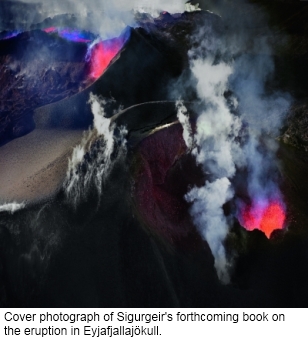 Sigurgeir Sigurjónsson has long been renowned for his landscape photography. At the moment, he has two works underway: a book on the eruption in Eyjafjallajökull, due in late June, and a book of aerial photographs of Iceland, which will be called Earthward.
I spoke with Sigurjónsson at his downtown studio on Hverfisgata – reputedly the least artistic street in Western Europe. Whether that is a fair description or not, Sigurjónsson's spacious timber house contains a tidy and pleasant workspace: there is a light table in the hallway, a sofa in the living room, the shelves are lined with books and a Leica camera rests by the doorway, within striking distance of a Hasselblad. Sigurjónsson begins to sit down in the sofa, but changes his mind and wakes up the computer to show me his two works-in-progress.

"We haven't decided what the book on Eyjafjallajökull will be called," he says.

Without warning, the tongue-breaker "Eyjafjallajökull" permeated the world news following the April eruption, causing newscasters around the world to struggle with the mouthful as the ash-plume played havoc with air traffic.
"Yes, I'm still wondering about the book's title," Sigurjónsson continues. "The name Eyjafjallajökull really says it all. It's a book about an eruption which is still going on – nobody knows how it's all going to end. The book itself is ready. It's split into four chapters, showing the beginning of the eruption, its development, and last but not least the effects on the people living in the area."
There are many extremely poignant pictures in the chapter on the ash fallout: showing how the world around the glacier instantly turned a sullen grey, how the sky became pitch black in the middle of the day. The picture on the book's cover is especially gripping: magma glowing in two craters, which sit in a deep bowl formed by the ash. I also took special notice of a picture taken of the beautiful Seljavallalaug, a swimming pool built by farmers in the early 20th century and sitting in the shadow of the Eyjafjöll mountains: the camera is pointing over the bath house, towards the east. The swimming pool is bright green, while everything else is grey. Even the sky has an ashen tint to it.
It must be exciting for a photographer to make a book out of this kind of material – an eruption which is still ongoing.

"Yes, these are strong images," says Sigurjónsson. "I also think that providing the eruption's history in relation to Iceland's geology adds much to the pictures. The geologist Sigurdur Steinthórsson writes the book's text, and he does a good job of explaining what is happening under Eyjafjallajökull. I also include some great pictures by other photographers, and they lend much weight to the book."
Earthward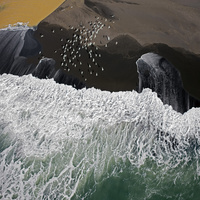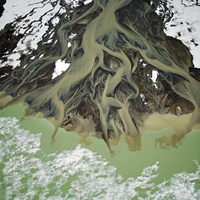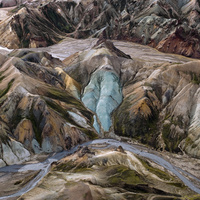 The idea for the book Earthward was born four years ago. "Originally, I was going to set aside a month for this project. I started taking photographs out of a helicopter, something I had never done before. That way, a whole new landscape was revealed to me – a landscape without a horizon, you might say. Little by little, it dawned on me that this would grow into a bigger project. I started getting closer to the ground, and all sorts of forms and things I had never seen before came into view."
Sigurjónsson flips through a few pictures from Earthward. The first thing that springs to mind are the diverse forms and colors found in Iceland, faintly reminiscent of an abstract painting which mixes oil and watercolors – works which testify to an affinity for light and color.
At what time during the day are these pictures taken?
"Late in the day," says Sigurgeir. "That's plain to see. When the sun is at its highest, everything seems overexposed. When it starts going down, these colors appear. The ground, the glaciers and lakes are redrawn in this fascinating, mysterious way."
Maybe this is a clichéed question, but I'll let it fly anyway: why is Iceland such an inexhaustible source of ideas and motives to you as a photographer?
"I hope the pictures themselves can answer that question. Iceland is an inexhaustible source of material, a land that is still being formed. It's full of beauty and contrasts and an absolute goldmine for photographers."
About Sigurgeir Sigurjónsson: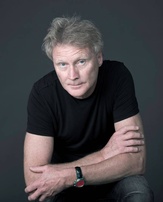 Sigurgeir Sigurjónsson was born in Reykjavík 1948. After studying photography in Iceland in 1965-69, he went abroad for further study at the Christer Strömholm school of photography in Stockholm in 1970-71 and in San Diego, California in 1980-84.
Since returning to Reykjavík, Sigurgeir has published numerous books of photos: Svip-myndir in 1982, Hestar (Horses) in 1985, and his first collection of landscape photography, Landscapes in 1992. These were followed by some of the most popular photo books about Iceland and the Icelanders ever published: Iceland, the Warm Country of the North in 1994, Amazing Iceland in 1998, and Where Nature Shines, Reykjavik – A City for All Seasons and The World of Moving Water, both in 1999, Lost in Iceland in 2002 and Icelanders with Unnur Jökulsdóttir in 2004.