Gerður Kristný
According to Gerður Kristný – poet, novelist and children's book author – fear was an early settler in her poetry. "It's stayed there ever since, so I don't think I'll be evicting it by now," she told us. Also discussed: Uganda, tattoo artists and the new book.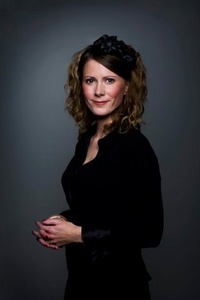 Gerður Kristný is hard to pin down. In the sixteen years since the appearance of her first poetry book, she has authored eighteen titles of bewildering diversity – novels, short story collections, children's books, a biography, a travelogue and, yes, a whole lot of poetry.
The year 2010 has been good to Gerður. She started it off by receiving the Jón úr Vör Poetry Prize, then went on to collect the Guðmundur Böðvarsson Poetry Prize, and in early November her children's book Garðurinn (The Garden) received the West Nordic Children's Literature Prize.

This fall, she published her newest poetry book, titled Blóðhófnir (Bloodhoof) and based on an ancient Eddic poem. The response, so far, is positive. The critic Úlfhildur Dagsdóttir, for one, did not mince words in her verdict: "Let's get it out of the way: Gerður's book about her mythical namesake – the young giantess forced to marry the god Freyr – is simply brilliant. [...] There's really nothing more to be said about it." The grand old man of poetry Þorsteinn frá Hamri, in his turn called the book "a heavyweight."
When we spoke to Gerður, she was in Uganda, working for Barnaheill, the Icelandic branch of Save the Children. She told us of the trip: 
"I went with Helgi Ágústsson, director of Barnaheill, and Petrína Ásgeirsdóttir, managing director, to North Uganda to see the schools there. Barnaheill have supported a number of projects in the region, such as the construction of classrooms and sanitary facilities, and training for teachers. Jakob Halldórsson, who means to make a short film about the trip, also traveled with us. My role was to keep a regular blog on the journey.

It was impressive to get to know Uganda in this way, by talking to the people there and reading to the children. For two decades, there was a war in the northern part of the country. It only ended two years ago. The rebel army of Joseph Kony controlled the region during that period, and when their ranks started to thin they took to kidnapping children, aged 8-14. The boys were forced into the army, the girls into sexual slavery. Many of them died, but thankfully some managed to escape. Kony's army is now believed to be in Sudan, still holding children captive."
Continuing an ancient story
There's a lot of cold in your poetry: "The cold prepares for me / a nest of anxiousness" reads one of your poems, while the newest book, Bloodhoof, describes a landscape "cast in steel-cold ice." How did the African climate treat a poet with such an affinity for low temperatures?

The African climate suited me just fine. I do, however, come from a somewhat colder climate, so I had never run into a baboon during a stroll, until I came to Uganda. I guess describing cold probably comes more naturally to me. However, if a monkey does appear soon in my poetry, it'll be that that baboon.

Your newest book draws on ancient Nordic literature: The Lay of Skírnir in the Poetic Edda. Sixteen years before that, you dealt with the exact same work in the poem "Til Skírnis" ("To Skírnir"), which appeared in your debut. Did the material for Bloodhoof stay with you for all those years?
As a child, I fell in love with Norse mythology. I thought the stories were terrific. The tale of my namesake, Gerður, the daughter of Gymir, was an early favorite, so I lent her a voice in my first work, the poetry book Ísfrétt (Ice Report, 1994). Later, after turning in the manuscript of my first novel, Regnbogi í póstinum (A Rainbow in the Mail, 1996), I decided to celebrate by getting a tattoo. I had an old friend, the late tattoo-artist Helgi, tattoo Freyr's sword on me. I've gone around armed ever since. I would later write a poem about Helgi, which appeared in Höggstaður (Weak Point, 2007).
The new book undermines the traditional reading of The Lay of Skírnir as a love poem. Instead, it highlights the coercion brought to bear on the giantess Gerður. Tellingly, equal rights have been a persistent theme in your work. There is a special kind of impact in subverting old traditions like this, isn't there?
Equal rights are often mentioned in the pieces I've written for the newspaper Fréttablaðið during the past five years, but not in the poetry you are referring to. Scholars have covered The Lay of Skírnir very well in the past few years, and no wonder – it's a captivating poem that lends itself readily to interpretation. I find the coercion in the Lay of Skírnir to be plain as day. Gerður Gymisdóttir has no more choice than the young girls I recently met in Uganda. Just like her, they were snatched from their homes and forced into the service of men. Skírnir bullied Gerður with threats, the worst of which was the threat of eternal loneliness, that she will only have death to look forward to. It's understandable that this threat sways her. When I was little, I read that Gerður was counted among the Æsir – the Norse Gods – after arriving in their midst. At the time I thought that this must have been a great honor to her. However, if you read the poem you'll see that she doesn't want to leave her home and only gives in under extreme duress. The lay comes to a close when Skírnir informs the god Freyr that Gerður is on her way. I wanted to continue the story and relate what happened when Freyr and Gerður meet. And that's what I did in Bloodhoof.
There is a strong element of horror in your poetry. Does fear fascinate you?
My world of poetry has always had very strict border patrols. However, fear was an early settler, settling into its deepest crevices. It's stayed there ever since; I don't think I'll be evicting it by now. In any case, there has to be room for the whole spectrum of emotions.
"I'm glad I've gotten away with doing both"
For the past decade, you have also enjoyed success as an author of children's book. The rules of the game must be different there. What do you keep in mind when writing for children?
When I'm writing for children and teenagers, the most important thing is that I myself have fun doing it. I've always been interested in good children's literature, and many of my favorite books fall under that hat – such as the works of Astrid Lindgren and Tove Jansson. I started out by writing for adults, but I always dreamed of writing for kids, too. I'm glad I've gotten away with doing both, that I haven't had to choose. Switching back and forth suits me well.

18 works in 16 years. Is more on the way?
There sure is! In late January, my musical Ballið á Bessastöðum (The Bessastaðir Ball) will premier on the main stage of the National Theater. It's adapted from two of my books: The Bessastaðir Ball (2007) and Prinsessan á Bessastöðum (The Bessastaðir Princess, 2009). After that, there are at least two novels waiting to be finished, and I have quite a bit of unpublished poetry. In December, I'll be heading off to a poetry festival in Bangladesh, and no doubt some of the things I'll see there will find their way into poetry. I'll bring a notepad along, sketch down ideas, and when I get home I'll see if they're worth anything.