Sjón
"Stories don't go out of date," Sjón told us over the telephone. Starting out as a prominent advocate of the avant-garde, the ever-busy author never expected he'd write a novel about 17th century Iceland. But here he is. From the Mouth of the Whale is due out in the UK in May 2011.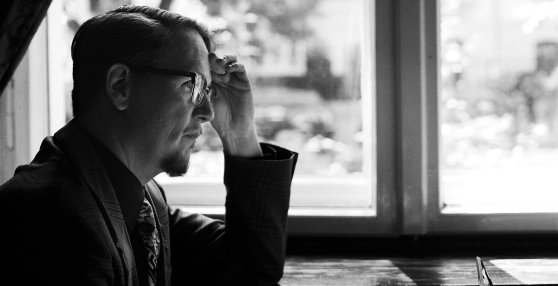 Photo: Kristinn Ingvarsson

From the Mouth of the Whale by Sjón (in Icelandic: Rökkurbýsnir) tells the story of Jónas Pálmason the Learned, a 17th century naturalist and writer whose thirst for knowledge and inability to ingratiate himself with the ruling class causes him to be exiled on charges of sorcery. The Reformation has just taken place and the old cosmology of Catholicism has been replaced with an all-new worldview – a worldview in which once-innocent nursery rhymes have turned into blasphemous incantations. Sjón's account of Jónas' chronic misfortunes and occasional joys, both in Iceland and abroad, is largely based on the historical character Jón Guðmundsson the Learned, a self-educated naturalist and chronicler.
In 2005, Sjón received the Nordic Council's Literary Prize for The Blue Fox (in Icelandic: Skugga-Baldur, published in English by Telegram, 2008), a brief, haunting novel which broached the seldom-mentioned subject of Down's syndrome in 19th century Iceland. In From the Mouth of the Whale, his seventh novel, his subject matter lies even further in the past, but as Sjón points out, the 17th century has plenty of parallels to our own times. "Stories don't go out of date," he says, pointing out that the story of Jón the Learned resonates in the Iceland of our times, "when the world has been turned on its head, and greed has taken over."
From the Mouth of the Whale was recently published in German, and will come out in the UK with Telegram in May 2011. The night before the book's German launch party, we had a telephone conversation with the author, who now lives in Germany as a resident artist of the Berliner Künstlerprogramm.
Stories don't go out of date
What was it that drew you to the subject matter of From the Mouth of the Whale?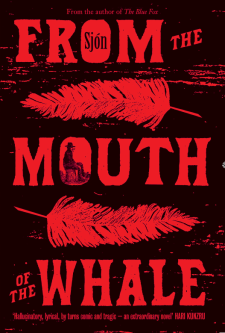 First and foremost, it was the man Jón the Learned, on whom the protagonist of From the Mouth of the Whale is based. The fact that here we have a self-educated 17th century man who leaves behind a remarkably large volume of written records about himself, his existence and inner life, presented me with an irresistible opportunity. I couldn't pass up the chance to work with this material, and to try to write my way into his mind and era.
What first got me interested in Jón the Learned was a short article I read some twenty years ago. It mentioned that he had been a disciple of Paracelsus, the great Swiss naturalist. I found this intriguing as I had learned of Paracelsus through the writings of the French Surrealist André Breton. Breton was very interested in Paracelsus' vision of nature and the fact that he treated all areas of nature as living creatures. According to this view, rocks, traditionally categorized as dead, were living creatures who merely existed on a different time plane. I found it remarkable that an Icelander had been working with these ideas.
At the time, I wrote one poem inspired by Jón the Learned, and then put him away for a while. But in my books, I've been working with what you might call cosmologies, trying to see whether they can be made more real and visible through text, so I always knew I'd return to Jón.
Judging from your novels to date, modernity hasn't found much favour with you. Is this an indication of nostalgia?
No, I think that there is a great potential for telling contemporary stories by retelling old stories. Stories don't go out of date and I thought the story of Jón the Learned reflected the conditions in Iceland from 2005 onwards, when greed had taken over and all social values and ideas about solidarity and mutual help were set aside. During the Reformation, Jón the learned sees the world turned on its head and greed running rampant, after Icelandic chieftains were no longer forced to share their riches with the poor. By criticizing a parallel way of thinking in his time, I discovered a chance to approach, in a deeper way, the cracks lining our contemporary Icelandic society. That way, I could tell this story of our country, which had jeopardized its own life and happiness.
So while your novels take place during other eras, they contain contemporary references.
Yes, they do. No writer lives in any other time than the present. I don't know if it's a specifically Icelandic thing, but when you're writing in a language that hasn't changed very much for a thousand years, and in which much has already been written, it's very difficult to put down more than one sentence without entering into a dialogue with that literary heritage. You feel the voice of past authors resonating slightly in each sentence you write. So I felt it was both interesting and natural to fasten all of those strings to the instrument and play them.
Things fall apart
From the Mouth of the Whale relates a paradigm shift, where half-serious dabbling in the supernatural has suddenly become a heinous crime.
With the Reformation, an entire worldview was whisked away from the people in the twinkling of an eye. Their view of their existence and ideas about what kept it hanging together – what it was made of – were suddenly excommunicated. When the Catholic ideology was displaced by a Protestant one with the de-canonization of the saints, and the whole world, really, a lot was put on the line. Little bits of verse that the public recited to improve their health, or perhaps spoke to cows when they put them to pasture – these suddenly became terrible magical incantations, and people caught saying them could be in mortal peril.
I think that Jón the Learned was one of the very few people who described how an entire cosmology was taken away from the people. Their entire existence became unstuck, and the same must have been true when Christianity was adopted in Iceland. I think it must also have applied, to some extent, to the fall of communism in the east. In a way, that also gave me a reason for telling this story now. The way I felt about the collapse of the Eastern Bloc, the left was deprived of its voice and therefore its purpose, or made to believe that, anyway. This led to an ideological gap that made turbo-capitalism possible and set in motion the great wave of greed that we experienced in Iceland. So I had no difficulty joining Jón and Jónas in their lamentations, moaning and wailing over a world going to hell.
Regarding your earlier novel, The Blue Fox, there were many who were fascinated by the simplicity of the narration, though it is debatable how simple the book really is. In From the Mouth of the Whale, however, you allow yourself to complicate things a bit.
As a writer, I try to set myself a new task with each book. Not just when it comes to the material, but the method as well. For example, I had never tried using stream-of-consciousness writing in larger prose. I usually begin work on a new book by experimenting with style and method, to see what works. I realized I had to "liberate" the text, in a sense, from myself, from the pedantic eye that is usually in charge when I write, in order to allow the voice of Jónas to come through. That's what the stream-of-consciousness writing was intended to do. With it, I revoked my right to exhaustively polish the prose while I was writing it.
Because of this, the book is unlike anything I've written before. It's looser, more restless and untamed, and attaining that goal made me very happy. At the same time, the stream-of-consciousness writing is more than a device for shutting Sjón up and giving Jónas space. It also gave me a chance to go against our commonly held ideas of well-written and ordered prose, ideas that are in fact diametrically opposed to the way people wrote before the Enlightenment. Back then, intelligent people couldn't restrain themselves from going off on a tangent if, for instance, the word cat appeared on the page – they would have to have to relate everything they knew about cats. Just to show everyone that they knew a whole bunch about cats. And then they'd maybe go on to write about cannons. From the Mouth of the Whale is written with this method. In the beginning of the story, Jónas' mind wanders a lot, and I just rolled with it. Doing that instead of going back to the polished, terse prose of The Blue Fox was a very healthy lesson for me.
 Was it hard to follow up to The Blue Fox's success?
For a writer who by all means wants to keep writing, existing and thinking of new things, it certainly is very strange to be constantly reminded of an older work. Not to mention receiving constant praise for a work he has amicably parted ways with. So, when something works out well and receives attention, it naturally puts a a strain on what you write afterwards. In the past two weeks, deals have been struck to publish The Blue Fox in Hungary and Russia, so I expect I'll have to keep talking about it for the next few years. You come to realize that it's become like a sixth finger on your left hand, which will just have to be left there.
The Blue Fox and From the Mouth of the Whale are what you might call ethnic novels when it comes to subject matter. However, your tools and methods come from outside that realm.
Well, I come out of the avant-garde. My roots are in surrealism. I never expected to become a writer of novels that were based on some ethnic heritage. However, I think that my years of collecting tools, experimenting in every way I could, trying every available method of breaking up text and examining its relationship to authors and readers, made it possible for me to approach this kind of material while still feeling I was bringing some new and personal angle to it.
I think it's a very normal phase for writers to start out by experiencing themselves as some kind of an international writer, to believe that there is such a thing as being international. As if working with ideas that float around without boundaries made one international. But the biggest discovery is when you see the rocks in your own environment catching the light, and realize that this is where you draw you strength from. The realm of the specific is what provides you with stories, and hopefully, if they're well told, they'll speak to people anywhere.
Interview: Davíð K. Gestsson
English translation: Steingrímur Teague