Óskar Árni Óskarsson
Óskar Árni Óskarsson is an acknowledged master of short prose, with a gift for bringing out the surreal in the most quotidian of circumstances.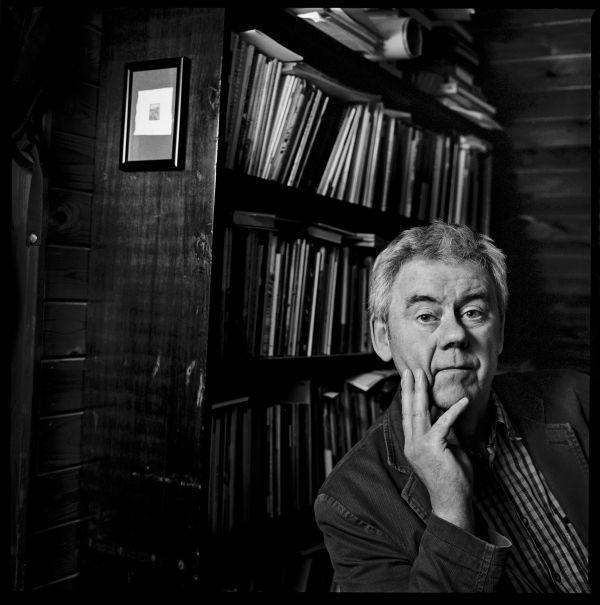 Óskar Árni Óskarsson is an acknowledged master of short prose, with a gift for bringing out the surreal in the most quotidian of circumstances, and over the course of his twenty-year career, he has steadily carved out his highly individual niche in Icelandic literature. He has also made waves with his translations, notably of the haiku masters Kobayashi Issa, Yosa Buson and Matsuo Basho. Echoes of their influence can, perhaps, be discerned in his own works.
Óskar Árni's much-praised Skuggamyndir úr ferðalagi (lit. Silhouettes from a Journey) was published in 2008, and earned him a nomination for the Icelandic Literary Prize. Not easily classified, the work is comprised of short prose pieces and narratives born out of Óskar Árni's travels around Iceland, in time as well as space. Although told in few words, the story is large in scope and ambition – at once a poet's memoir and a family story.
Silhouettes from a Journey was recently published with the  German publishing house Transit, in a translation by Betty Wahl. On that occasion, we paid a visit to Óskar Árni's home in West Reykjavík for a quiet chat about the work.
A composite journey around Iceland
Sagenhaftes Island: However terse its prose, Silhouettes from a Journey is wide in scope. Did it materialize over a long period?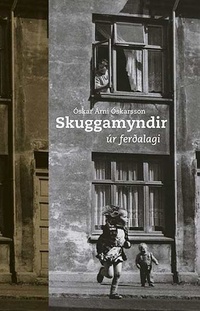 Óskar Árni: "Yes, it did take rather a long time, probably more than twenty years. It began with a few scribbled entries in my diary: stories of my family, told to me by my parents, mostly, and also various impressions from my childhood. I simply wanted to make a record of these things to keep them from getting lost. Then, however, I started working with the diary entries, and ended up with stories and poems. And a few years ago, I began thinking I might have material for a book; a book that would be all at once a travelogue, a memoir, a poetry book, even.
"Some of the stories are about my maternal grandmother, Stefanía Stefánsdóttir from Siglufjörður. She was the sister of Magnús Stefánsson, who wrote poetry under the pseudonym Örn Arnarson. These were poor people who had a hard life, but they hardly ever folded under the pressure, though death was a frequent visitor."
As the title suggests, Silhouettes from a Journey centers on travel.
"The book relates a bus trip I took in the summer of 2005, first north to Siglufjörður and Akureyri, and then east, to Laugarnesströnd, where my father's family comes from. Their story is woven into the account of my journey, as are stories of my mother and some other people.
"The bus trip in the book is a composite of many such journeys around the country, undertaken over the course of many years and compressed into one trip. I often keep a journal on my travels, and since I've never gotten a driver's license, I usually travel by bus. When I was a boy, I would frequently travel around the country in my father's old, beaten-up car. This whetted my appetite to travel, as did my early inclination towards poring over maps and taking imaginary trips around Iceland, pulling over in imaginary road dives for a hot dog, staying in imaginary hotels and having all kinds of adventures."
People often run into trouble when they attempt to find a convenient label for Silhouettes from a Journey.
"The book is mostly based on real events, but you couldn't call it a realistic work, because it contains passages that are completely fictitious. It hovers on the border between fiction and something else. It also contains texts that don't come directly from me; letters I found in the National Library, and fragments from the works of other authors. By interspersing these through the book, new voices were let into the narrative. I also decided to include a few photographs, which I either found or took myself. Perhaps this can be attributed to the influence of the German writer W.G. Sebald, who often included photographs and postcards in his books.
"Libraries have had trouble classifying the book – as a biography, novel, travelogue, memoir and so on. I am very fond of literature that can't be nailed down like that.
Wandering seems to be an important theme in your work.
"Yes, this has been the case ever since my first book, Handklæði í gluggakistunni (lit. Towels in the Windowsill). It's probably because I'm a bit of a wanderer myself. When I was a child, I would often get lost in the city, go on long journeys and lose my way. It might even have something to do with my translations of Japanese haiku, which are often travel poems. It all hangs together."
And where do you find your material on your wanderings, which hunting grounds are the most bountiful?
"I've written much about the suburbs of Reykjavík, and industrial areas such as Skemmuvegur in Kópavogur. I like the fringe areas – outliers of the city, where the city gives way to the countryside; areas with abandoned, dilapidated summer cottages. I enjoy walking around those places. They have something drifting around in the air, the remains of something long gone.
Every now and then, it's good to leave the city. Right now, I'm in Hveragerði, working on poetry. I'm alone, which keeps me focused. You can't just walk around all the time, although that's part of the job as well."
Interview: Davíð K. Gestsson
English Translation: Steingrímur Teague
Photo: Kristinn Ingvarsson