Olaf Olafsson
Despite enjoying phenomenal success in Iceland as well as abroad, Olaf Olafsson remains oddly disassociated with the rest of Iceland's literary scene. His eighth novel, Restoration, will be published by HarperCollins in early 2012.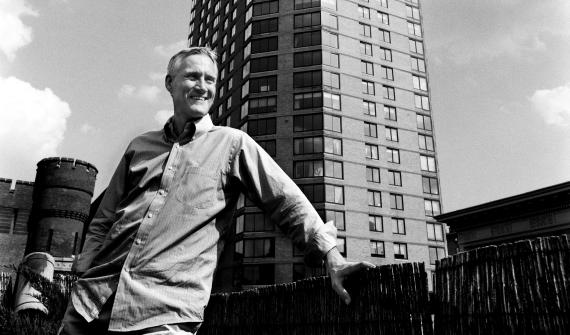 A writer whose works are virtually guaranteed bestseller status in Iceland, and whose accolades include the Icelandic Literary Prize and the American O. Henry Prize, can hardly be referred to as standing on the margins of Icelandic literature. Yet for all his critical and commercial success, Ólafur Jóhann Ólafsson, known to the English-speaking world as Olaf Olafsson, has remained oddly disassociated with the rest of the Icelandic literary scene.
This may be attributed to the fact that he isn't, strictly speaking, at all on the scene: Ólafur Jóhann hasn't lived in Iceland for some thirty years. Furthermore, his parallel career in the business world – an intimidating series of executive positions at megacorporations such as Sony Interactive and Time Warner – is hardly a vocation traditionally favoured by novelists.
Lastly, his novels, it must be said, simply have an international tint to them. As a prominent Icelandic critic has pointed out, Ólafur Jóhann's works are often set in foreign countries, and invoke the realism of the early 20th century rather than the modernistic experimentation favoured by many Icelandic writers of his generation.
His latest novel, Restoration, is the story of two women caught in the throes of civil war in 1944 Italy. Slated for release in America in early 2012, its Icelandic publication marks the end of the longest publication hiatus of Ólafur's 25-year literary career. We seized the opportunity to have a few words with him.
Double lives
It seems that sooner or later, any discussion of your novels is fated to gravitate to your business career. Apparently, it's hard to draw a line between the writer and the executive. Does this bother you?
"It may have in the past, but it doesn't anymore. I feel I've managed to separate these roles, both in regard to my personal life and the world at large. In any case, many writers lead double lives – as teachers, editors, proofreaders, journalists and so on. However, I suppose my situation is rare enough to attract attention."
Throughout most of your career, you've lived in the United States. One Icelandic critic went so far as to say that "Ólafur Jóhann Ólafsson is no less an American author than an Icelandic one." Where do you place yourself as a writer?
"I am an Icelander living in New York. I believe that my books reflect the fact that my roots are in Iceland, even though I've lived abroad for nearly thirty years and gotten to know life in various places. In America, I'm usually referred to as an "international" author, whatever that means."
That label is perhaps not so far-fetched: Your novels are set all around the world, and have been published in more than twenty languages. Do you think this "internationalism" may have marginalized you in Icelandic literature? One notable critic has even called you an "outlaw" in Icelandic literature!

"There have always been writers who haul anchor and settle down far away from their homeland. Some of them sever the ties, while others see no reason to, because they enjoy carrying their home country within themselves, and cultivate it in their own way. I belong to this latter group. I spend considerable time in Iceland, speak Icelandic at home and have no doubts as to where my roots lie. But it follows that I'm not a typical Icelandic writer, so I might as well be referred to as an outlaw. It doesn't bother me more than any other attempt to define me."
The new book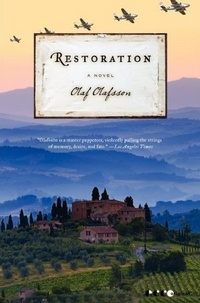 The Icelandic publication of Restoration (orig. Málverkið) coincides with the 25th anniversary of Ólafur's publishing debut, the short story collection 9 Keys (orig. 9 lyklar).  In collaboration with the translator Vicky Cribb, Ólafur wrote Restoration simultaneously in Icelandic and English. HarperCollins will publish the English edition in early 2012.
"I've never spent so much time on any book as I did with Restoration," he says. "It demanded a lot of preparation; all kinds of research, travel and miscellaneous digging around. I tried to map it out in advance as well as I could, but the mind moves on, so a lot of things changed while I was writing. I set it aside for a while after completing the first or second draft, and then spent a long time tinkering with the story before I was ready to let it go. In retrospect, I don't think I could have done this any faster. That's the way it goes, sometimes, but I hope I'll be a little quicker about it next time.
"I first visited Tuscany as a teenager, and spent a few weeks in the area. I didn't go abroad much in those years, so the trip made a deep impression on me, and I have since made a point of visiting the area regularly. Of course, I try to depict it faithfully, but in the end, everything obeys the laws of fiction, so houses and hills move around and the proportions change, to a reasonable degree."
A strange compulsion
What attracted you to writing in the first place?
"It was some strange compulsion that made itself known when I was a teenager, refusing to back off when I tried to shunt it aside. I don't think anyone gets involved with this sort of thing for any other reason. I grew up in a literary household and my father was an author, so I knew what I was walking into. I had no illusions as to how much work it would take. I can't say that I ever regretted it, though. Writing is necessary to me."
The father and author he is referring to is Ólafur Jóhann Sigurðsson, a well-known mid-century author in Iceland. Ólafur Jóhann Jr. readily acknowledges the influence:
"Of course, I learned a lot from him, and still reap the benefits of having been brought up by a couple who were humanists and devotees of culture. As a child, I also got to know what being a writer entails: the necessary methods, the discipline, how to treat language and people – both real and fictional."
Looking back across these 25 years since your debut, how do you feel you have evolved as a writer? 
"I'm probably the least qualified to say. During the course of this quarter-century, I suppose I have matured in my sense of style and language, as well as in regard to structure, narrative technique and my general understanding of people. Of course, these things happen both consciously and unconsciously. The evolution on the page must, to a large extent, be related to one's evolution as a person, which I am probably unable to pass judgement on. But as in so many other things, one is always learning something new and trying to do better at things already learned. Always gathering material and trying to see the larger picture. Trying to create, on the pages, characters and situations that speak to the reader."
Interview: Davíð K. Gestsson
Translation: Steingrímur Teague
Photo: Kristinn Ingvarsson