Þórarinn Eldjárn
Þórarinn Eldjárn's novel The Blue Tower has recently been published in Denmark.

Þórarinn Eldjárn has revealed his artistic skills in many different literary genres: in novels, short stories, poetry (both in rhyme and in free verse), comedy sketches, aphorisms, children's books, scholarly essays, plays and musicals. He was born in 1949 and studied literature and philosophy at the University of Lund in Sweden from 1969-1972 and Icelandic at the University of Iceland from 1972-1973; he returned to the University of Lund once more to complete a postgraduate degree in literature from 1973-1975. He has worked as an independent writer and translator ever since.
Þórarinn first gained attention as a poet in the mid 1970s when he helped form the kernel of the The Notorious Literary Artists, a young progressive writers' movement including Steinunn Sigurðardóttir, Sigurður Pálsson and Pétur Gunnarsson. This radical group of young writers aimed at revitalising the language of Icelandic literature by assimilating pop language and slang into their work while still freely and uninhibitedly drawing on references to a more traditional Icelandic heritage.
Þórarinn's first book of poetry Kvæði (Poems; 1974) was extremely popular, all five editions disappearing rapidly off the bookstores' shelves; Þórarinn had that special ability to compose poems with traditional rhymes and alliteration while most other young poets, in an attempt to break up conventional poetic forms, composed in free verse. It was unique for a young and ambitious poet to write poetry employing such formal techniques.
Þórarinn has diligently written poetry especially for children and his poems have appeared in very many children's books, for example the books Óðfluga (Fast Approaching; 1991), Heimskringla (Earth; 1992), Litarím (Matching Colours; 1992) and Gælur, Fælur og Þvælur (Hugs, Bugs and Bullshit; 2007). As with his other works, they have been hugely popular and have also been enhanced by the wonderfully entertaining illustrations by his sister Sigrún Eldjárn. These poems have proved extremely influential in stimulating the language development of children as his diction is not too simplified as is often the case in books intended for young readers. In an interview in the newspaper Morgunblaðið in March 2000, Þórarinn described how he had been brought up to experience language as fun and with endless possibilities, and it's easy to see how he passes this idea on to the youngest generation in his children's poetry.
From the very beginning, readers were captivated by Þórarinn's special sense of humour, and he himself has stated in interviews that he is first and foremost a humorist.Þórarinn seeks material from Iceland's cultural heritage, and his fiction has often been described as folklorish. His works are certainly reminiscent of folktales, but it is important to bear in mind that they are not influenced by any romantic nationalism in which stereotypes and clichés of inspiring Icelandic heroism are prevalent. Þórarinn's special sense of irony and humour present national events and characters from Iceland's history in a new light.  In his fiction he constantly counterpoints different views of history and culture: the formal style of ancient times as opposed to the pop culture of the contemporary world. The clashes between the central and the peripheral in cultural history in Þórarinn's works provide intriguing and informative visions of past and present Icelanders, and are above all entertaining reading.
Þórarinn eased his way into prose writing in 1981 with his first short story collection Ofsögum sagt (Exaggerated Stories) in 1981. Since then he has written five short story collections, in them one can easily perceive the main characteristics of his style whereby an ancient Icelandic saga or theme is woven into the everyday culture of modern times and the inconsequential events of daily life are illuminated in funny and sometimes wickedly satirical stories which are written very succinctly, revealing a superb narrative technique.
Þórarinn has written three historical novels, Kyrr kjör (Status Quo; 1983), The Blue Tower (Brotahöfuð; 1991), and Baróninn (The Baron; 1996) in which we can see how Þórarinn throws a revealing light on peripheral characters of Icelandic history. He presents studies of interesting real-life people who have one thing in common: the fact that hardly any historical sources on them still exist. Þórarinn uses what little evidence that history has left us and imaginatively fills in the gaps to create an informative and entertaining story of fallible and interesting human beings.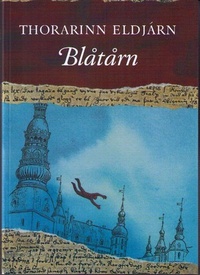 The Blue Tower relates the story of  Guðmundur Andrésson, a scholar and prisoner of conscience in the 17th century who protested against the strict morality laws of the Danish empire, and was thrown into the most highly guarded and secure prison of that lordly nation: the Blue Tower.  The book was published in Denmark recently in a translation by Björn Sigurbjörnsson, and received glowing reviews from the critics. Søren Vinterberg, the literary critic of Politiken, describes the books as: "a convincing historical novel about boastful Danes and querulous Icelanders [...] Guðmundur Andrésson relates his fate with an effortless use of his contemporary language as the main events are gradually revealed by the master of narrative Þórarinn Eldjárn." Another critic, Lars Bonnevie of the Weekendavisen, is similarly impressed: "One is entranced by his complex personality [Guðmund's] in this confessional which masquerades as a novel. Here Þórarinn's unique style is vital in presenting a convincing psychological vision of the book's character, and the translator must also be praised for having completed such a difficult task with such bravura. There is no false tone anywhere, the music remains pure throughout."  
In recent years the book has received nominations for several prestigious literary awards; it is the only Icelandic novel to have been nominated for the European Prize for Literature as well as being nominated for the Aristeion Literary Prize and the International IMPAC Dublin Literary Award. Since the book was first published in Iceland it has appeared in Great Britain, Finland, France, and now most recently, Denmark.