Fashion, Design & Architecture
From fish-leather lamps to high-tech prosthetics, lava chairs to smartphone design, originality, resourcefulness, individualism and innovation continue to shape Icelandic design, whether in form, function or use of materials. Much like the nation, Iceland's design tradition is very young – its term for design, hönnun, came about in the 1950s. The lack of tradition has proved to be a great advantage, ensuring freedom and even creative anarchy.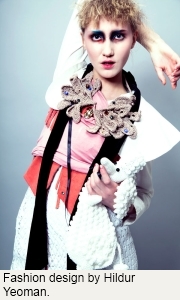 In recent years, the field has been rapidly blossoming, growing from its craft-based roots and into fundamental industry involving thousands of people and significantly contributing to the economy. Quality design is now reaching every branch of industry, enhancing its competitiveness in the global market. Moreover, design is finally recognized as an integral aspect of Icelandic culture. The Museum of Design and Applied Art was opened in 1998. Its role is to collect and preserve Icelandic design, especially from the beginning of the 20thcentury to present day, as well as conducting academic research.
Combining faith in technological progress with an almost primeval connection with nature, Icelandic design is contradictory, reflecting the geographical contrasts of this small yet dynamic island with its austere landscape, volcanic activity, gigantic glaciers, harsh weather conditions and richness of natural texture. This is for example evident in global fashion brand STEiNUNN's striking pieces, and Aurum's jewellery, which celebrates the sturdy yet delicate flora.
In the early 20thcentury, the first architects and designers began seeking education to Europe. The nation's fight for independence inspired them to look to tradition. Again today, folklore, heritage, history and a touch of nostalgia influence designers, attempting to define and celebrate a national identity in a globalized world. Anna Gudmundsdóttir's scarves feature an Icelandic 18thcentury carving pattern, traditionally used for Christmas bread; Studiobility's Huldufolk Paver is a whimsical concrete garden or pavement tile, allowing elves from Icelandic lore, access to the world of humans via a tiny embedded staircase; filigree jewellery, which accompanies the national costume, has been revived, and the print of the traditional woollen lopi sweater are applied by graphic designers on everything from napkins to neckties.
While limited manufacturing possibilities make production more difficult, opportunities on handmade and custom-made items have soared, being a major international trend. Moreover, interior and furniture design is thriving thanks to outstanding know-how and an adequate number of factories. Also, small knitwear companies collaborate with young designers such as Vík Prjónsdóttir on extraordinary blankets and other woollen goods inspired by folklore and nature.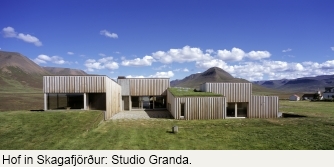 Lack of available materials is another challenge, urging designers to think creatively and seek new possibilities. Wool however remains a trusty material, now with a fresh approach. Made from felted wool, Kúlan by Bryndís Bolladóttir can assume various roles, for example a peg, toy, hotplate, ornament or stool; Farmers Market has revamped the lopi sweater. Also, fish-leather has huge potential, already popular with fashion houses and sportswear companies around the world. Product designers enjoy a fruitful collaboration with the farming community, creating innovative products from traditional ingredients such as blood sausage and dairy product skyr. Last but not least, Róshildur Jónsdóttir's fishbone model kit, Something Fishy uses readily available material, which otherwise would have been discarded. At the same time, it honours the age-old tradition of playing with bones, and is environmentally friendly.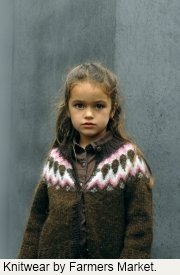 Eco-consciousness incidentally plays a fundamental role in Icelandic design, as manifested in the recycling and repurposing of objects, as well as the utilization of remnant materials. Studiobility creates coffins and urns from recycled paper; Sruli Recht uses local materials such as horse skin and horse hair; multiuse plates Hellur are made from surplus glass; Hrafnkell Birgisson'sHoch die Tassen is a series of fantastic reclaimed cups perched on glass stems; textiles company Rendur offers colourful garments from unused, remnant thread; RAKI Design for example fashions pegs from coffee cups and candleholders from saucers.
The Icelandic design industry continues to forge a strong identity with droves of promising graduates from The Iceland Academy of the Arts, brimming with curiosity, optimism and daring. Opening its doors in 2001, the majority of its instructors are professionals, making it the focal point of the design community. The faculty furthermore includes numerous foreign professors, ensuring an international discourse. IAA graduates better reflect their national identity than previous generations whose only option was studying abroad. Of course, many people still choose to study at abroad, which is also important.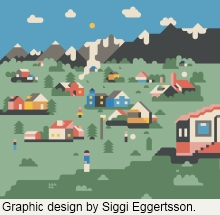 Many more designers and companies enjoy international success, including product designer Katrín Ólína, with her enchanting, colourful world. Sigga Heimis, noted for her colourful, functional product design, contributes to the Icelandic design community by sharing her experience. High-tech prosthetics company Össur is a leader in the field; gaming company CCP creates the virtual world of EVE ONLINE by consciously cultivating excellent product designers, fashion designers and graphic designers.
The Iceland Design Centre, established in 2008, has raised general awareness and understanding of design. It promotes the field and provides information locally as well as abroad, nurtures innovation and ensures development. An annual, four-day festival, Design March is among its primary undertakings. Showcasing fresh or classic pieces, it is a wonderful platform for designers to meet the media, the public as well as foreign guests. All across Reykjavik, in warehouses, shops, galleries and restaurants and even in the streets, a wide variety of events, lectures and exhibitions reflect the field's versatility.
Further information on Icelandic design can be found at The Icelandic Design Center.
By Ásta Andrésdóttir