Cured the homesickness but can't quit
"But to me this job is a pure addiction in which I'm first and foremost a user. When I came back to Denmark after my long stay in Iceland I soothed my homesickness by translating, and I'm absolutely forbidden to quit."
Erik Skyum-Nielsen has translated more than seventy Icelandic literary works of various kinds into Danish and received honorary awards both in Iceland and Denmark.
Erik Skyum-Nielsen is a well known name in Icelandic and Danish literary circles. He has translated more than seventy Icelandic literary works of various kinds into Danish, in addition to having worked as a critic and university lecturer both in Denmark and in Iceland. Erik also received an honorary award from the Danish association of literary translators in 2017 and Orðstír, an honorary award for translations of Icelandic literature to a foreign language in 2015.
A powerful generation
Erik's interest in Icelandic was sparked early on when he started studying Danish at university. "After just one term I registered for a course in West-Norse narrative and that went on for three semesters. In that way I learned some Old Icelandic and that was how it started. I then took a course on Halldór Laxness given by Erik Søderholm, who went on to write a big book about Kiljan some years later. Søderholm later became the director of the Nordic House in Reykjavík, as some people will undoubtedly remember. This period of study marked a certain beginning for me and my final thesis focused on, among other things, the saga of the Faroe Islands. Following this, I was invited to deliver a lecture at the international Saga Conference, which was hosted in Reykjavík in the summer of 1973."
That was what brought me on my first trip to Iceland and I was instantly enchanted by the country and its people. 
"In fact I immediately decided to try to somehow make my way back there. A year later, the University of Iceland advertised the post of lecturer in Danish Literature and luckily I was offered the position."
Erik spent four years as a visiting lecturer in Iceland where he taught Danish literature and came into contact with Icelandic authors. "There were two things in particular that had a major impact on me at that time. First, I met Thor Vilhjálmsson when I was asked to translate his novel Fuglaskottís (Bird Dancing), since it was Iceland's submission to the Nordic Council Literature Prize. Thor and I spent many evenings sitting in his study in Vogahverfi and I learned a great deal from that because he was such an erudite man and very knowledgeable in Danish. But the other thing I wanted to mention is that the courses which we lecturers ran in the winter of 1976-77,  included participants of the calibre of Einar Kárason, Halldór Guðmundsson, Auður Hauksdóttir, Einar Már Guðmundsson and other fine people. They were incredibly dynamic students, a powerful generation that would go on to leave their mark on Icelandic literature. They were brilliant students we teachers also learned a lot from."
Enjoy that intermediary state
Fuglaskottís was the first book that Erik translated, but he says that unfortunately it was never published in Danish. "But later I translated the novels Grámosinn glóir (The Gray Moss Glows), Náttvíg (Killing in the Deep of Night) and Morgunþula í stráum (Morning Verse in the Grass) and they were all published."
When Morgunþula í stráum came out, I got a phone call as I was on my way home from a summer house. It turned out to be Thor who wanted to thank me for the translation and then he died ten days later. I was touched that I had managed to translate this beautiful book and had heard from the author.
When asked whether it had not been difficult to translate Thor,  Erik admits that it certainly was at times. "When I started translating Grámosinn glóir I borrowed my uncle's summer house. I stayed there and worked, but only managed to translate twenty-five pages in a whole week, which is hardly a great output. That tells you how complex it could be."
Erik lived in Iceland between 1974-78, but says he was not approached for further translations during that period. "The first writer who came to me in Denmark and asked whether I might be willing to translate a  text for him was Einar Már. He was studying in Copenhagen at the time and wrote both poetry and his first novel at the Royal Danish Library. One night Einar Már knocked on my door, since we had actually become acquainted with each other five years earlier and we decided to compile a selection from three of his poetry collections.  The book was then published by Vindrose under the title of Frankensteins kup, which is a reference to a poem called The Russian Revolution."
Erik says that after that translation assignments rapidly increased and he fully intends to continue. "I haven't stopped since and I've no intention of stopping until I drop dead off my chair," says Erik light-heartedly. He adds that there are many elements that make translation work so alluring. 
But one element is that you become a kind of go-between for the author. At the same time, in a way you act as a kind of host to the reader.
"You live on the margins of two linguistic and cultural worlds, which is captivating in itself, and then there is a certain calm and peace that comes from thinking in a mind other than one's own. One is always ruminating on something but from someone else's perceptions. The role of the translator is not to create but rather to re-create and I really like the intermediary state that entails. That's a major part of what draws me to translate, I no longer do it for money, but rather because I am so fond of Icelandic and am familiar with the main characteristics of many of the Icelandic authors I have admired over the years."
Teen slang and Tómas Jónsson
Erik says that no two people are alike in the group of poets and authors he has translated. What's more he's always happy when new people join the group. "Such as Gerður Kristný whom I've translated five times and Auður Ava whom I've translated three times now. That's something I enjoy and recently I got myself into a muddle when I accepted to translate Jónas Reynir Gunnarsson, who is a very young author who expresses himself in contemporary teen slang. It's slightly alien territory to me, but at the same time a very stimulating challenge. At the same time I'm busy translating an older Icelandic work into Danish and that is Guðbergur Bergsson's bestseller Tómas Jónsson. An agreement has been reached with a publisher called Sisyfos to publish Tómas Jónsson next year and, of course, this is long overdue. I'm delighted to have been able to take on this project."
Erik's knowledge of Icelandic literature is more than evident, as is, not least, the passion he puts into his work. He is concerned, for example, that none of Svava Jakobsdóttir's early works have been translated into Danish, not even Leigjandinn (The Tenant). "For a long time this also applied to the works of Jakobína Sigurðardóttir, but that has recently been rectified. I'd like to mention that in the summer of 1999 I was on a hike around Hornstrandir with my wife at the time and some friends and we stopped in Hælavík where I gave a talk on Jakobína which was focused on her memoirs Í Barndómi. My translation of the book was recently published in Denmark and that is a source of great joy to me."
Absolutely forbidden to quit
Erik says Icelandic literature has long enjoyed considerable popularity in Denmark. The novels of Halldór Laxness have also been popular, but that popularity dwindled when the author started to write his memoirs. "When Halldór published memoirs about his Greek years and days spent with monks, the interest faded. Of course, these works were published in Denmark like the others, but sold very little when they came out. This was around 1980, at the same time as Einar Már, Einar Kárason, Vigdís Grímsdóttir, Steinunn Sigurðardóttir and other authors were being introduced in Danish. There was a real swing between generations because many of those authors have enjoyed a lot of popularity here."
"They say that every Danish publisher is always on the lookout for an Icelandic author to have in their ranks, that it is an absolute must for them to have an Icelandic writer in their books," says Erik lightheartedly, adding that that is a myth.
When asked about the importance of translations between Nordic languages, Eric replies that they are important to maintain the Nordic connection and stimulate a common spirit. "But to me this job is a pure addiction in which I'm first and foremost a user. When I came back to Denmark after my long stay in Iceland I soothed my homesickness by translating, and I'm absolutely forbidden to quit."
Interview: Magnús Guðmundsson
Translation: Brian FitzGibbon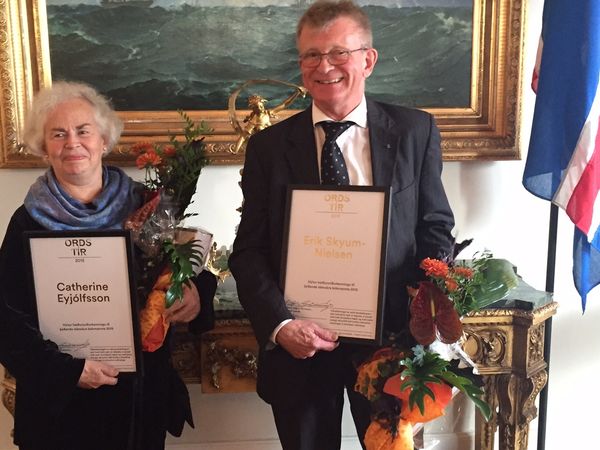 Erik Skyum-Nielsen with Catherine Eyjólfsson when they received Orðstír, an honorary award for translations of Icelandic literature to a foreign language, in 2015.