The Icelandic Literature Center has awarded Grassroots Grants to four emerging writers
The grants were awarded to Ingólfur Eiríksson, Jakub Stachowiak, Mao Alheimsdóttir and Nína Hjördís Þorkelsdóttir.
Grassroots Grants are awarded annually to emerging writers in order to support and encourage them on their path.
Photo above: Presentation of Grassroots Grants at Gunnarshús in Reykjavík. Ingólfur Eiríksson, Jakub Stachowiak, Mao Alheimsdóttir and Nína Hjördís Þorkelsdóttir (Nína's sister, Fríða Þorkelsdóttir, accepted the grant on her behalf).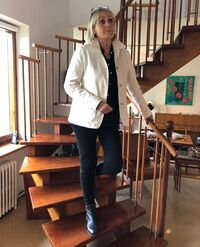 On Thursday 3 June the Icelandic Literature Center presented Grassroots Grants to four new authors. Each grant is for half a million ISK. The Center's director, Hrefna Haraldsdóttir, presented the grants at Gunnarshús, the headquarters of the Writers' Union of Iceland.
Manuscripts submitted for consideration
Each year the Icelandic Literature Center awards Grassroots grants for works of literature written by writers who are starting out – regardless of their age – in order to encourage them on that path. The grants are awarded for literary work in a broad sense: stories, poetry, plays, etc.
Grassroots Grants have been awarded since 2008; a selection is made from submitted manuscripts and two to four grants are selected each year.
Record number of applications
This year 94 applications for Grassroots Grants were received, which is more than ever before. Last year 57 applications were received, so the number has risen 65% in one year.
In addition to the record number of applications, it is gratifying that for the first time Icelanders of foreign origin, who moved to Iceland from Poland in their twenties, are among the recipients of the grants. Both have studied Icelandic as a second language at the University of Iceland, and gained full command of the language, as witness their literary texts.
The works for which grants are awarded this year are poetry books and fiction, addressing a wide range of subjects: young people who lose their way in life, earth and air, Iceland and Poland, sorrow and loss and, last but not least, writing and language.
Icelandic Literature Center Grassroots grants for 2021 are awarded to the following works and authors:
Stóra bókin um sjálfsvorkunn (The Big Book of Self-Pity)
Fiction
Author: Ingólfur Eiríksson
Næturborgir (Nightcities)
Poetry
Author: Jakub Stachowiak
Veðurfregnir og jarðarfarir (Weather Reports and Funerals)
Fiction
Author: Mao Alheimsdóttir
Lofttæmi (Vacuum)
Poetry
Author: Nína Hjördís Þorkelsdóttir
Recipients of the grants are selected by the Icelandic Literature Center's literary consultants, by authority of the board. This year the Center's consultants are Erna Erlingsdóttir and Ingi Björn Guðnason.

Fourteenth allocation of Grassroots grants – nearly seventy authors have received grants.
This is the fourteenth time that Grassroots Grants have been awarded, and over the years nearly 70 authors have received grants, for a wide variety of writings. Among those who have received Grassroots grants are writers Arndís Þórarinsdóttir, Fríða Ísberg, Sverrir Norland, Benný Sif Ísleifsdóttir, Hildur Knútsdóttir, Halla Þórlaug Óskarsdóttir, Dagur Hjartarson, Júlía Margrét Einarsdóttir, Sigurlín Bjarney Gísladóttir, Kristín Ragna Gunnarsdóttir, Halldór Armand Ásgeirsson and Pedro Gunnlaugur Garcia, to name but a few.
The number of applications for Grassroots Grants has risen steadily since the first grants were awarded in 2008 by the Literature Fund, the predecessor of the Icelandic Literature Center. On that occasion nine applications were received and five grants were awarded, each for ISK200,000. In the past thee years nearly 60 applications have been received, but the record was broken this year, with 94 applications for Grassroots grants. Grants are now ISK500,000.