---
Finally, an Icelandic fantasy
Emil H. Petersen had published two books of poetry when he decided to try his hand at fantasy. "The tradition for this sort of literature hasn't taken root in Iceland yet, and I'd like to see that change," says the young author.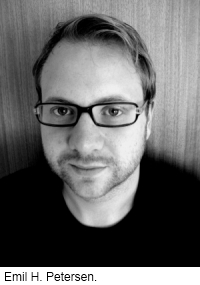 Emil Hjörvar Petersen had published two books of poetry when he decided to try his hand at fantasy. He received the New Voices Grant of the Icelandic Literature Fund in 2008 for his second poetry book, Refur (Fox). Two years later, he published the urban fantasy Saga eftirlifenda – Höður og Baldur (The Survivors' Saga – Höður and Baldur), one of the first  Icelandic efforts in the fantasy genre, and intended as the first installation of a trilogy.
The Survivors' Saga draws primarily on the world of Norse mythology, but also includes elements from Persian and Ancient Greek mythology. The story takes place 7010 years after Ragnarok, the apocalyptic scenario described in the Poetic Edda – in a parallel version of the modern world. The exiled brothers Höður and Baldur – the blind and the white god – are among the survivors of Ragnarok, and are both seeking to extend their youth. However, as in most good fantasies, they find that dark and powerful forces – headed by other survivors of Ragnarok – are on the rise, threatening the very existence of the world of men.
The reviews were positive. Bjarni Ólafsson of Morgunblaðið described the book as a "knock-out Icelandic fantasy", and Illugi Jökulsson of the literature TV program Kiljan was similarly impressed: "Emil's world is convincing, and the narrative is entertaining."
We had a conversation with the 26 year-old author, who is studying literature at the University of Lund in Sweden.
"I wanted the fantasy to be my mouthpiece,"
Before The Survivors' Saga, you had only published two books of poetry, with no obvious ties to fantasy. What made you decide that your debut novel should be the first Icelandic fantasy?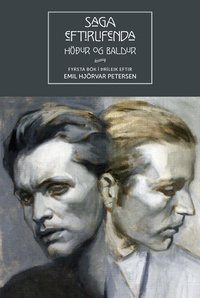 "Before I had the idea for The Survivors' Saga, I had tried my hand at writing novels that conformed to what I was used to seeing in Icelandic literature. I now know why I didn't keep it up: it just wasn't right for me. Of course, I don't want to rule anything out in the future, because I enjoy all types of literature.
"The poetry books aren't exactly fantastical, but they're full of allusions and reworkings of myths and other strangeness. I seem to be completely enthralled by these elements. I only realized it recently, after finishing the first volume of the trilogy. I wanted to tell a good story, but I also wanted to have something worthwhile to say. To move people and get them thinking at the same time. I wanted the fantasy to be my mouthpiece, but no one had written an Icelandic fantasy before.
"I took a chance with it, and that was pretty nerve-wracking for a long time. But now, the book has gotten good reviews and a warm reception from readers. I'm very grateful for that. I tried to write the kind of story I myself would like to read, and it's great to know that other people enjoy it, too."
Are you a fantasy aficionado yourself? Do you have any particular role-models within the genre?
"Absolutely. I don't think I've ever been shy about my admiration for Neil Gaiman. China Miéville is also amazing, and so is Susanna Clarke, to name only a few. In other words, I'm very fond of the sub-genre known as urban fantasy, and I suppose my story fits that description. I also find the so-called New Weird movement very interesting.
"The thing is that the foreign market for fantasy, science-fiction and other genre-writing is simply enormous. There are so many things going on, with each genre branching off into countless subdivisions. The authors are as diverse as they are many. They are inventive with form and style, and constantly discover new ways to tell their stories. The tradition for this sort of literature hasn't taken root in Iceland yet, and I'd like to see that change. Judging from the momentum and warm reception that The Survivors' Saga has enjoyed, I think Iceland is very open to fantasy writing."
Writing a three-volume fantasy must be a daunting task, especially if it's a debut work. Don't you ever worry that such an enormous undertaking will eventually swallow you whole?
"It is a large undertaking. The amount of research required is extensive. The character work, fitting the various plot threads together, making everything complete and believable, developing the cosmology, making the prose as good as possible, and sometimes artistic when applicable – all this takes work.
"I'm not worried about it swallowing me whole, because that's already happened. Writing the first book was very hard at times. Not only because it was my debut novel, but also because it was hard to maintain faith in the story, to believe that I wasn't just wasting a whole lot of time and effort on nothing.
"Now I know what I'm signing up for, and the story has proved its worth. It doesn't hurt, either, that I'm infinitely interested in the subject matter, which means that writing the story is my favorite thing to do. For example, once Höður and Baldur came out, I was feeling pretty spent. I was back in Lund, and had little patience for the literary theories I was supposed to be reading for school. Finally, I just pulled up a new document on my word processor and wrote: "The Survivors' Saga – Book Two – Chapter One." To start writing again, even after such a short pause – to once more delve into the story and the lives of its characters – felt unique, to say the least.  I realized that writing is what holds my everyday experiences together, gives me the fulfillment I need to deal with everything else. I had experienced similar feelings before while writing, but never as strongly as I did then. I must tell stories."
---